Many Injured In West Palm Beach Crash
At least one person was

seriously

injured in a crash on Village Boulevard and Community Drive, West Palm Beach police said

.
The site of this car crash is near Village Commons.
Police say a Corolla and Impala crashed into each other. This happened across from Village Commons on Village Boulevard and Community Drive.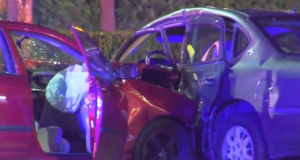 According to reports, several people are now injured in the crash and at least one has serious injuries.  First emergency responders at the scene are giving aid to the injured victims.  This is a vehicle crash with injuries that has blocked the road, the Palm Beach police office reports.
The delay of traffic on this route is due to the severity of the crash.
Vehicles on this route are pulling to the roadside to allow authorities work. Some are pulling into UPS store and Torero's Mexican restaurant parking lot. Others are making a detour through Village Commons.  The traffic jam has extended to some part of Glenmoor Drive.
To avoid delays, we
advise
that you avoid this route and take alternate routes. A good alternate route to use in this case is Military Trail or Palm Beach Lakes Blvd.
This is a very busy part of West Palm Beach and many adults are shopping for holiday gifts in the stores in this area.  There are times that people are frustrated because of the long lines in retail stores.  This causes them to have less patience when they get behind the wheel of car.  Please be aware and be prepared when driving at this time of the year.
Please drive with caution and stay safe.
 Attorney Jason Weisser of Schuler, Halvorson, Weisser, Zoeller and Overbeck comments on this accident with two injuries in Miami:  "We hope that the it is quickly discovered what caused this accident.  We hope it wasn't from distracted driving.  If you've been injured in an accident, make sure you are properly represented by an experienced trial accident attorney."
The post Many Injured In West Palm Beach Crash appeared first on Traffic Center.
Powered by WPeMatico