Michael Kenneth Cucore, 58, Dies In Fiery Crash on I-95
A man of Port St. Lucie has died in a vehicle collision on I-95 in Martin County.
Florida Highway Patrol says Michael Kenneth Cucore, 58, of Port Saint Lucie, was traveling Southbound near Mile Marker 99 when for an unknown reason he hit a Toyota 4-Runner in front of him.
After the impact FHP says Cucore's Hyundai Accord traveled in a western direction across the southbound lanes until it left the roadway and struck a tree.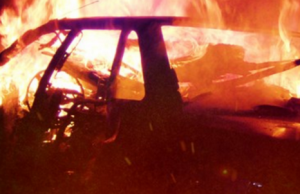 The car engulfed in flames after impact says FHP. Cucore was transported to Martin Memorial South where he was pronounced dead.  It took workers over 30 minutes to put out the flames.
This is a vehicle crash with injuries said the FHP.  The cause of the crash is being investigated.
Two lanes on I-95 are closed at the moment due to the severity of the crash. Vehicles on this route are pulling to the roadside to allow crews work. The delay of traffic on this route is due to the severity of the crash. It is best to use an alternative route.  The best alternative route would be to use either the Florida Turnpike or U.S. 1.
Please drive with caution and stay safe.
Attorney Jason Weisser of Schuler, Halvorson, Weisser, Zoeller and Overbeck responded to this unfortunate accident with a death of one person:   "This is a tragic accident that happened on I-95.  We hope for the families sake that it can be quickly discovered what the cause was.  It is especially difficult for all involved when an accident like this happens around the holidays.  Please be careful whenever you are driving a motorcycle, car, SUV or truck. This is especially true when you are transporting children in your vehicle.  If you have been injured in an accident, call my office for a free consultation to find out what are your rights".
The post Michael Kenneth Cucore, 58, Dies In Fiery Crash on I-95 appeared first on Traffic Center.
Powered by WPeMatico