Motorcyclist Killed in Jupiter After Hitting a Minivan
A motorcyclist has died in a crash with a minivan in Jupiter.
The motorcycle crashed after it hit a minivan westbound on Indiantown Road near the I-95.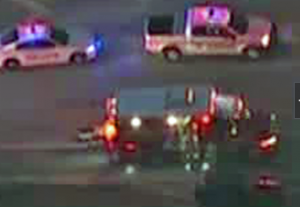 First emergency responders arrived at the site of the crash soon after the accident happened. The motorcyclist was immediately transported to the hospital but was pronounced dead on arrival.
At this time it is known that the driver of the motorcycle was a man according to the Jupiter Police.  His name as not been released yet.
A Dodge Caravan hit the motorcycle and the rider was lying on the roadway when crews arrived just after 6:30 a.m, said Capt. Albert Borroto, Fire Rescue spokesman. The motorcyclist was pronounced dead at the scene, Borroto said.
The driver of the minivan was driving eastbound on Indiantown Road and tried to turn left to enter northbound I-95.   This is when the motorcyclist traveling west collided with the Caravan, according to Jupiter police.
Westbound Indiantown Road is currently closed due to the crash, but you can get onto I-95. The Northbound entrance ramp from Eastbound Indiantown Road is blocked as well. You will need to use an alternate route to get to the Florida's Turnpike.
Ride Smart Florida – Information on Motorcycle Safety in Florida
Ride Smart Florida is a good resource for motorcyclists on education, training, safety strategies, data, and everything related to motorcycles.
It provides help and support to local communities and motorcycle clubs. It also gives a complete access to the following resources:
Public Service Announcements (PSAs)
Motorcycle-related statistics
Rider Education Information,
Links to websites related to motorcycle safety.
The group's aim is to reduce fatalities of motorcycle riders and their passengers. To achieve this, RSF works with safety partners around the state. It uses data-driven research to develop, implement and evaluate measures to reduce fatalities and serious injuries to motorcycle riders and their passengers.
Ride Smart Florida is an extension of the Florida Motorcycle Safety Coalition which assists the state of Florida Motorcycle Safety Program with implementing the Motorcycle Safety Strategic Plan (MSSP) goals and strategies.
MSSP is funded primarily by Fixing America's Surface Transportation (FAST) Act (Pub. L. No. 114-94) funds which support highway safety programs.
The Coalition is led by the Florida Department of Transportation (FDOT), with administrative assistance from the Center for Urban Transportation Research (CUTR) at the University of South Florida.
The post Motorcyclist Killed in Jupiter After Hitting a Minivan appeared first on Traffic Center.
Powered by WPeMatico