Move Over For Emergency Workers On The Side Of The Road To Avoid Causing An Accident
After there is a CRASH and the vehicles are on the side of the road, move over from the lane closest to the wrecked cars.
Florida law requires you to Move Over a lane — when you can safely do so — for stopped law enforcement, emergency, sanitation, utility service vehicles and tow trucks or wreckers.  This means that if you see one of these vehicles ahead of you either in the left or right lane or shoulder, move over.
If you can't move over — or when on a two-lane road — slow to a speed that is 20 mph less than the posted speed limit.
Slow down to 5 mph when the posted speed limit is 20 mph or less.
Nearly 13 percent of firefighters and police officers who die in the line of duty are killed in vehicle-related incidents.
More tow operators are killed than any other responder.
Traffic incidents are the number one cause of death of EMS/EMT responders.
Traffic incidents are the leading cause of death for police officers.
You can get a ticket if you do not Slow Down and Move Over.
When you fail to Move Over, you put yourself and others at risk; you could crash into a vehicle or worker.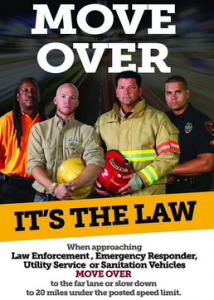 Violating the Move Over law will result in a fine, fees, and points on your driving record.  For more information, see section 316.126, Florida Statutes.
Attorney Jason Weisser of Shuler, Halvorson, Weisser, Zoeller and Overbeck wants to you to be aware of and to keep our first responders to the scene safe.  "If you see an accident up ahead on the road, as soon is its safe, move over to the lanes away from the accident.  One way you can do your part to keep our roads and highways safe is to by following Move Over Laws.  So when it is safe, move over."
The post Move Over For Emergency Workers On The Side Of The Road To Avoid Causing An Accident appeared first on Traffic Center.
Powered by WPeMatico