One Injured As Two Vehicles Crash Into Convenience Store
Two vehicles crashed into a convenience store in Jupiter, sending one to the hospital.  Others also injured.
"It blows my mind. I've never seen anything like this before. It's devastating!" said David McClure, an eyewitness.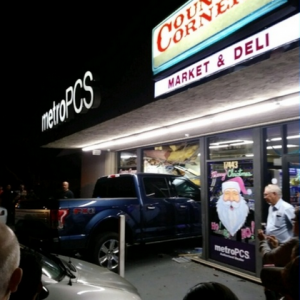 The crash happened at a local convenience store in Jupiter.
The driver of a Ford pickup truck slammed into the back of a Camaro. It pushed the Camaro through the front window. The Camaro slammed right into the middle of the Country Corner Market and Deli on Central Boulevard, south of Indiantown Road.
The truck hit the car with such force, that the truck itself also ended up in the store. The crash sent employees scrambling but none got injured.
It's unclear how many people were inside the store at the time.
A clerk at a Citgo gas station nearby heard the crash. The crash left shattered glass, debris, shelves and food items everywhere. Bystanders say it looked like a hurricane hit the store or a bomb went off inside the store.
Jupiter Police are investigating the cause of the crash.
According to police, at least one person rushed to a hospital.   According to a Jupiter police spokesperson, there were several injured people. But none were life-threatening.
Names of the drivers of the pickup and Camaro are not available at the time of this report.
Please drive with caution and stay safe.
Comments:
Attorney Jason Weisser of Schuler, Halvorson, Weisser, Zoeller and Overbeck comments on this accident:  "This is an unusual accident that unfortunately has left victims injured.   It is unclear at this time why this accident occurred but it may have been from vehicles speeding.   Or it could have been from distracted driving.  Please don't be distracted when you are behind the wheel of a car, truck or SUV.   We hope that the victims retain proper legal council to represent them.  If you've been injured in an accident, make sure you are properly represented by an experienced trial accident attorney."
The post One Injured As Two Vehicles Crash Into Convenience Store appeared first on Traffic Center.
Powered by WPeMatico