One Injured In Delray Beach Crash on I-95
One person taken to the hospital following a crash on I-95 in Delray Beach.
The crash was located on I-95 close to Atlantic Avenue in Delray Beach.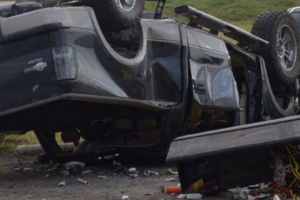 Authorities say a pickup truck flipped over in an accident with another car. The driver of the pickup was transported to the hospital with injuries.
According to Fire Rescue, I-95 had 3 lanes that were closed.  First emergency responders were at the crash site to try and help the injured and clear the roadway. The driver of the pickup truck that flipped was transported to Delray Medical Center with injuries.
The removal of the truck and car wreck from the driving lanes proved to be difficult at first.  It was completely upside down.  The tow trucks on the scene were able to eventually free the pickup truck from the car.  Then they were able to load them on flatbed trailers that were standing by.
This was a vehicle crash with injuries that blocked I-95, the Florida Highway Patrol reported.
The delay of traffic on this route was due to the severity of the crash.  Vehicles on this route were pulled to the roadside to allow crews work. During the crash cars were exiting on Woolbright Road from the north and also on Linton Blvd from the south.
Please drive with caution and stay safe.
Attorney Jason Weisser of Schuler, Halvorson, Weisser, Zoeller and Overbeck comments on this car accident in Delray Beach:  "This is a serious accident that unfortunately had a person that was injured.  At this time is has not been reported what caused this accident with injuries.   We hope that it was not caused by one of the drivers being distracted.  Please don't text while driving.  If you've been injured in an accident, make sure you are properly represented by an experienced trial accident attorney."
The post One Injured In Delray Beach Crash on I-95 appeared first on Traffic Center.
Powered by WPeMatico