One Killed, Two Critically Injured On Congress Avenue Accident In Boca Raton
A person was killed and two others were injured in a collision of a red Ford Escape with a small sedan on Congress Avenue.
The crash occurred at the intersection of Congress Avenue and Clint Moore Road, according to the Boca Raton Beach Police Department.  The driver of a red Ford Escape, also a man, stayed at the scene and was cooperating with police.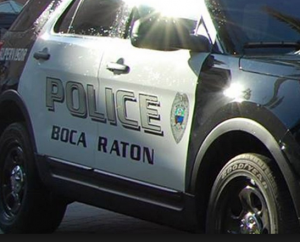 "We are just starting the investigation so it is too early to detail what exactly happened," Police said.
The two injured men were taken to the trauma unit of a regional medical center. Injuries to the two men have been ruled moderate, not critical. It appears the Ford Escape may have slammed into the small Sedan car when they met at the intersection.
The eastbound lanes of Clint Moore Road and south of Congress Avenue are currently closed.  It was reported by police spokes person that it could be closed for at least four hours.  The identity of the deceased victim has not been released yet.  It will be released by the Palm Beach County coroner's office after relatives have been notified.
It is best at this time to take I-95, US One or Dixie Highway as your alternate routes.  If you are heading east or west you should take Linton Blvd.
Palm Beach County attorney Jason Weisser of Schuler, Halvorson, Weisser, Zoeller and Overbeck responded to this unfortunate car accident:   "This is a major accident that injured two minors.  It appears that speed was a factor in the crash.  We hope for the families sake that the investigation and be quickly finished.   Please be careful whenever you are driving a motorcycle, car, SUV or truck.  If you have been injured in an accident, call my office for a free consultation to find out what are your rights".
The post One Killed, Two Critically Injured On Congress Avenue Accident In Boca Raton appeared first on Traffic Center.
Powered by WPeMatico