Three People Injured In Two Car Accident On U.S. 1 In Port St. Lucie
Port St. Lucie Police responded to this crash involving two cars that has sections of U.S. One closed in Port St. Lucie.
Three people were injured and had to be helped by the St. Lucie County Fire District.
Details about this crash:  This accident happened on U.S. 1 between Veterans Memorial Parkway and Lyngate Drive, police Sgt. Charlie Lumpkin said. All of southbound U.S. 1 between those two roads is shut down, and a portion of northbound U.S. 1 also is closed, he stated.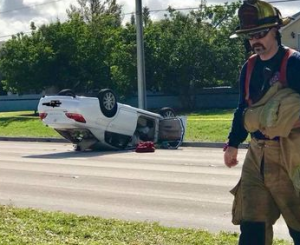 Lumpkin said that one car was making a turn to go south on U.S. 1 from an apartment complex. That vehicle, it appears, pulled out into the lane of a southbound vehicle illegally which caused the crash.
After being struck, the second vehicle was struck so hard that it rolled over a number of times, Lumpkin said.
The car that pulled out illegally wound up in the northbound lanes after the impact.
The woman in the vehicle that rolled over was flown to a trauma center in serious condition, according to the St. Lucie County Fire District.
Two people from the other vehicle were taken to a local hospital, the Fire District stated.
This story will be updated when the names of the injured has been released by authorities.
Port St. Lucie Police are asking all drivers to avoid this area until the accident scene has been cleared.  The best possible routes would South East Floresta Drive or the Florida Turnpike.
Attorney Jason Weisser of Schuler, Halvorson, Weisser, Zoeller and Overbeck comments on this accident with three injured in St. Lucie County:  "This is another example of an inattentive driver causing serious injuries. We can only hope the three victims make a speedy recovery.  If you've been injured in an accident, make sure you are properly represented by an experienced trial accident attorney."
The post Three People Injured In Two Car Accident On U.S. 1 In Port St. Lucie appeared first on Traffic Center.
Powered by WPeMatico