Two-Car Crash in I-95 Near Fort Lauderdale Leaves One Dead, 4 Others Injured
A teenager died and four others were injured when the car in which he was traveling in crashed into another car with four occupants on Interstate 95 in Fort Lauderdale, police said.
The car was traveling north on I-95 when the teenage driver somehow lost control.  Then it crashed into another car on the exit ramp to State Road 84.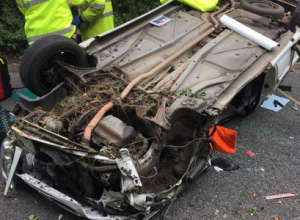 Emergency crews arrived at the scene shortly after the crash happened. Preliminary investigations revealed that the engine was separated from the other car and part of the vehicle fell onto I-95 below. The second driver and his three passengers suffered grave injuries and are in critical conditions. The four victims in the car were taken to Broward Health Medical Center.
"I don't know too many details other than the fact that I saw two cars crash which led to one car flipping over a couple of times, off the on-ramp of Marina Mile," a road user who witnessed the accident said.
The 18-year-old man who was driving the first car was pronounced dead at the scene. Police said the car was reported to be stolen out of Palm Beach Gardens.  The father of the teen who died in the crash said he was a senior.  His high school ist Fort Lauderdale High School and had aspirations of going to college.
"My son was a good kid, full of joy, loved to have fun, played sports early on. He currently wasn't playing right now.  He was just getting through the school year," his father said.  Investigators reported that speed was a factor in the crash. Further investigations are ongoing.
Comments:
Accident attorney Jason Weisser of Schuler, Halvorson, Weisser, Zoeller and Overbeck responded to this unfortunate accident with a death:   "This is a tragic accident here in Broward County.  We feel for the family in this time of such a loss.  It would be best for all parties if the investigation is completed in a swift manner.   We also hope that the injuries to the others involved aren't serious and they recover quickly.  Please be careful whenever you are driving a motorcycle, car, SUV or truck.  If you have been injured in an accident, call my office for a free consultation to find out what are your rights".
Powered by WPeMatico