Two Injured In Camper Van Crash In Warfield Blvd in Martin County
Two women sustained injuries after a camper van crashed on Warfield Boulevard, Martin County.
The camper van driver lost control of the van, flipped and crashed into another car. It rolled off the road before coming to a halt.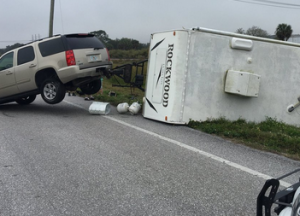 The crash happened along Warfield Blvd blocking the eastbound lane, Martin County Sheriff's office is reporting.
First emergency responders arrived at the site of the crash soon after the accident happened. The injured women were rushed to the hospital for urgent treatment.
The camper driver was also taken to the hospital; his condition is unknown at this time.
This is a vehicle crash with multiple injuries said the Martin County Sheriff's office. The cause of the crash is being investigated.  This story will be updated when more information is released.
Warfield Boulevard is partially closed at the moment due to the severity of the crash, causing traffic delays. Vehicles on this route are pulling to the roadside to allow crews work. Some are pulling into nearby side streets. The delay of traffic on this route is due to the severity of the crash. It is best to use an alternative route such as SW Fox Brown Road.
Please drive with caution and stay safe.
Attorney Jason Weisser of Schuler, Halvorson, Weisser, Zoeller and Overbeck comments on this camper crash in Martin County, Florida:  "This is a serious accident that unfortunately caused injuries to both the driver of the camper and to the two women he struck.   Please always pay extra attention to the road when you are behind the wheel.  This is especially true when you are pulling any type of trailer or camper.  We hope that the injuries don't prove to be to serious or extensive.  If you've been injured in an accident, make sure you are properly represented by an experienced trial accident attorney."
The post Two Injured In Camper Van Crash In Warfield Blvd in Martin County appeared first on Traffic Center.
Powered by WPeMatico