Two Injured In Palm Tran Bus Crash, Delaying Traffic And Those Waiting For The Bus
A bus working Palm Tran's route 70 has knocked down the I-95 light pole.
The bus was not yet in service and was heading toward its route when the wreck occurred.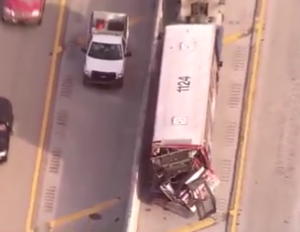 A car on the southbound side was also involved in the collision, said Sgt. Mark Wysocky, an FHP spokesman.
First emergency responders are at the scene. Two people with injuries have been taken to Bethesda Hospital East in Boynton Beach.
The bus was working Palm Tran's Route 70 between Lake Worth and Delray Beach. Its stops include Atlantic Community High School, Delray Medical Center, Boynton Beach City Hall and A.G. Holley Hospital.  There will be delay for those of you that regularly take a bus on this bus route.
The downed light pole has blocked both northbound and southbound lanes on Interstate 95 near Woolbright Road.  This is in Boynton Beach according to the Florida Highway Patrol spokesperson.
The delay is worse in the southbound direction. Drivers are experiencing delays up to about 10 miles north toward 10th Avenue North in Lake Worth, according to Florida Department of Transportation.
To avoid delays, we suggest you avoid using I-95 through the mid part and southern part of Palm Beach County.  It is best to take the Florida Turnpike if you need to use a major highway.  Other alternate routes would be Congress Avenue, Military Trail or U.S. One.  At This time Dixie Highway also has heavy delays from overflow traffic and construction projects.
Comments:
Attorney Jason Weisser of Schuler, Halvorson, Weisser, Zoeller and Overbeck comments on this multiple car accident on I-95:  "This is an accident that unfortunately will effect many people.  Those injured in the crash and the many that are slowed in their commutes today.  We hope that the injuries are not that serious to the victims.  If you've been injured in an accident, make sure you are properly represented by an experienced trial accident attorney."
The post Two Injured In Palm Tran Bus Crash, Delaying Traffic And Those Waiting For The Bus appeared first on Traffic Center.
Powered by WPeMatico