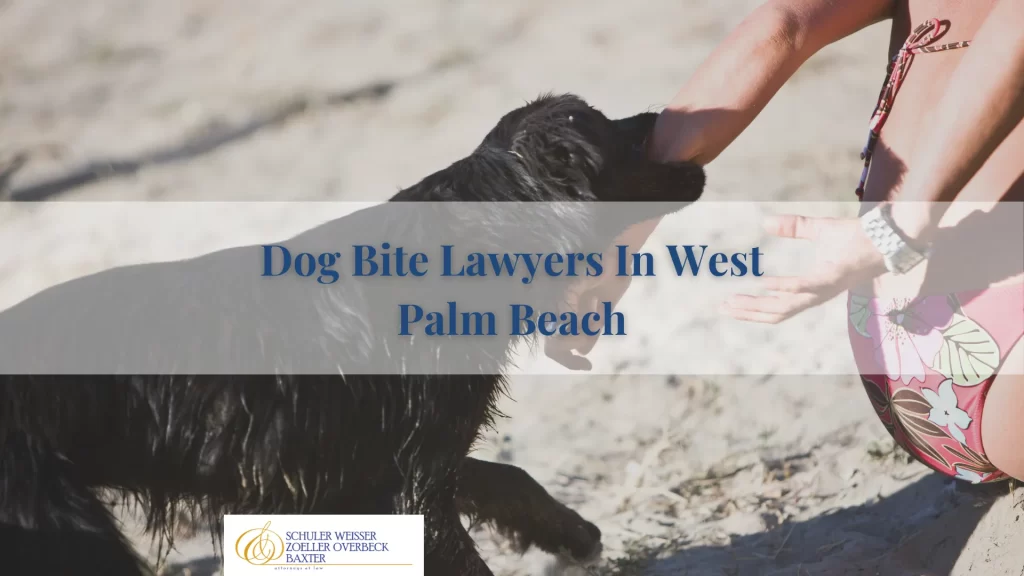 If you or someone you love suffered a dog bite injury because of an owner's negligence, you could be entitled to financial compensation. Dog owners have a responsibility to keep their pets under control. They can be liable if their negligence has injured you or someone in your family. You don't deserve to be financially responsible for this pain and suffering you have endured because of someone else's carelessness. The dog bite lawyers in West Palm Beach at Schuler, Weisser, Zoeller, Overbeck & Baxter P.A. are here to fight for your legal rights while you recover from a dog bite injury.
We also believe that excellent legal representation shouldn't cost you. That's why we work on a contingency basis. We take no legal fees unless you receive a financial award. Contact Schuler, Weisser, Zoeller, Overbeck & Baxter P.A. today at 561.689.8180 to discuss your case in a free and confidential consultation.
Do I Need A Dog Bite Lawyer?
It's always wise to consult a lawyer after an injury like a dog bite, for which liability can be tricky to establish. Florida's laws regarding liability for dog bite incidents and injuries are complex. You want to maximize your chances of the highest possible financial award, and having an experienced lawyer is the best way to do that. If you are recovering from a dog bite or attending to a child or family member attacked by a dog, you do not want to fight your case alone.
A skilled lawyer will have experience with the legal process, thorough knowledge of the law, and access to valuable resources. Their experience and connections can make all the difference for your case. And when you trust a lawyer to fight on your behalf, you have more time to focus on what is most important: your recovery.
Why Choose Schuler, Weisser, Zoeller, Overbeck & Baxter P.A. to Handle My Case?
The attorneys at Schuler, Weisser, Zoeller, Overbeck & Baxter P.A. understand how serious an injury like a dog bite can be. We know such injuries can cause you and your family immense physical, emotional, and financial strain. Our personal injury lawyers in West Palm Beach firmly believe you should not have to shoulder the responsibility of high medical expenses from a dog bite. The legal team at Schuler, Weisser, Zoeller, Overbeck & Baxter P.A. will work hard to fully investigate your case's details. We'll make it as strong as possible and secure the most compensation available.
We are proud of the trust that countless West Palm Beach community members have placed in us. Our extensive record of success includes billions of dollars recovered for our West Palm Beach clients over the years. We've been able to help so many get the compensation they deserve because of our skillful and strategic legal representation.
The lawyers at Schuler, Weisser, Zoeller, Overbeck & Baxter P.A. will work to alleviate your financial stress after a dog bite. We're confident in our ability to argue your case successfully, which is why you pay us nothing until we've won.
Dog Bite Liability
Florida has laws that dictate the liability of the dog owner and the victim in different ways. For dog owners, Florida is a strict liability state. This means that its owner is automatically responsible when a dog bites anyone in a public place. The same goes for a private place, so long as the victim is present on the property lawfully. This liability covers any damages that the bite victim sustains. Liability applies regardless of whether the dog has a history of aggression or previous attacks. That means owners can be liable regardless of their knowledge of the dog's dangerous tendencies.
While Florida holds dog owners liable in most cases, victims of dog bites can also share liability. Florida law states that the owner's liability can decrease proportionally to the dog bite victim's negligent behavior. In this case, negligence means that the victim failed to be cautious or behave appropriately around the dog. If a person is purposefully angering, taunting, or harming a dog, they can be partially liable. In that case, the injured person will not receive the full compensation they could otherwise recover.
Dog Bite Risks
Dog bites can be mild or life-threatening, depending on the size and strength of the dog and the victim. Unfortunately, children and older adults have the highest risk of dog bites. Many children do not know how to act around dogs. And many dogs are sensitive to small children, meaning they need constant supervision around kids. This is especially true if the dog and child have never been around each other. If a dog bites a person, injuries may include:
Cuts or puncture wounds in the skin
Bruises
Broken bones
Scarring
Infections
Rabies or other diseases
Anxiety or a phobia of dogs
Amputation or permanent loss of mobility
Other forms of pain and suffering
The CDC reports that almost one in five dog bites becomes infected. Moreover, some bacteria in a dog's mouth can make you sick. Dog bites can cause any of the following diseases or infections:
Pasteurella is the most common bacteria in over half of infected dog bite injuries. It results in painfully inflamed infections that can cause the joints and glands to swell. This can lead to difficulty in moving. The risk is much higher for people with weak immune systems.
Rabies is relatively rare, but one of the most serious diseases dog bites can cause. Rabies is a virus that affects the brain and is almost always fatal once symptoms are present. This disease is preventable with vaccination, however. If a dog bites you, make sure to ask your doctor if treatment for rabies is necessary.
Capnocytophaga is a bacteria that lives in the mouths of dogs, cats, and people. The bacteria is safe for cats and dogs but can be dangerous to humans if it enters the bloodstream through bites or scratches. People with weakened immune systems are at a greater risk for illness due to capnocytophaga exposure.
Tetanus is a toxin produced by a type of bacteria that lives in a dog's mouth. Tetanus causes paralysis and is a risk for people who sustain deep dog bite wounds. It is also preventable with a vaccine.
MSRA is a type of staph infection you can contract through a dog bite, as dogs can carry it without any symptoms. It can cause skin, lung, and urinary tract infections in people. It can even become life-threatening if it spreads into the bloodstream or lungs.
Dog bites can also lead to psychological damage, like increased anxiety around animals or the development of a phobia of dogs. Such conditions can affect a victim's future quality of life. Dogs are the most popular pet in the United States, and if someone is afraid of them, it can make them hesitant even to leave their home in extreme cases. If a dog bites a young child, the child can more easily develop psychological trauma that can shape the rest of their life.
Compensation for Dog Bites
Depending on the details of your case, you may be eligible for various damages through a dog bite claim. These include:
Medical expenses, including emergency room visits, doctor's appointments, and medication
Property damage resulting from the dog attack, such as damage to clothing
Lost wages, if you have to miss work while recovering from the attack
Rehabilitative care
Therapy
Lost earning capacity, if you are unable to return to work due to your injuries
Disfigurement
Disability
If your loved one passed away due to a dog attack, you may be able to pursue a wrongful death claim. Through this claim, you could recover compensation for losses, including funeral expenses and loss of support.
What Should I Do If Someone's Dog Bites Me?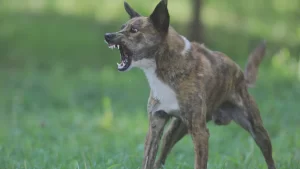 If you are the victim of a dog bite, seek medical attention immediately. Even if you can treat the wound on your own, future compensation may depend on having immediate medical attention. These medical records can strengthen your case. Puncture wounds that dog bites cause are also more susceptible to infection than other injuries. In addition to seeking medical help, make sure that you document your injury by taking photos of the incident and your wounds. Write down all information about the incident, and see if witnesses can provide statements about what happened. Then contact a dog bite injury lawyer to build your case.
Contact Schuler, Weisser, Zoeller, Overbeck & Baxter P.A. Today
Dog bites can cause severe injuries that lead to serious health consequences. You should not have to suffer physically or financially because you got hurt by an irresponsible owner's dog. The premises liability attorneys at Schuler, Weisser, Zoeller, Overbeck & Baxter P.A. are here to help you understand your legal rights.
We will fight tirelessly to hold dog owners accountable for their negligence and get you the compensation you deserve. Our firm believes quality legal representation shouldn't be out of reach due to budgetary concerns. That's why we will collect legal fees only if we get you paid for your injuries.
To discuss the details of your case, contact us today at 561.689.8180. You can also fill out our online contact form for a free and confidential initial consultation.
Related Reading: