Woman dies in Walmart parking lot crash west of Boca Raton
A Broward County woman is pronounced dead after a crash in a Walmart parking lot.
A car backing out of a parking spot in lot struck the woman was walking across the lot. This happened in suburban Boca Raton, according to the Palm Beach County Sheriff's Office.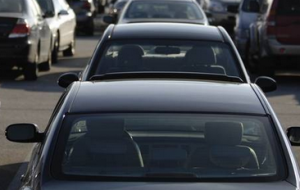 Michelle Ann Samuels of Coconut Creek died at Delray Medical Center from injuries sustained in the accident.  Her age for was immediately available.
A Honda driven by a resident of Boca Raton hit M. Samuels.
The driver told Palm Beach Sheriff's Office investigators she was backing out of a parking spot at the Walmart at State Road 7 and Palmetto Park Road when she noticed Samuels walking toward her vehicle.
The driver said she thought she had shifted her vehicle into park, but instead had put it in reverse. She panicked when she felt the car rolling backward. She attempted to hit the brake, but depressed the gas pedal.
The Honda struck Samuels then continued in a counterclockwise motion, striking three other parked but unoccupied vehicles.
Samuels died about an hour after the wreck, PBSO said.
Attorney Jason Weisser of Schuler, Halvorson, Weisser, Zoeller and Overbeck comments on tragic accident in a Walmart parking lot in Boca Raton:   "This tragic accident shows how in even a typically non-fatal environment horrible consequences can occur when people panic behind the wheel.  If you or a loved one has been injured in an accident, make sure you are properly represented by an experienced trial accident attorney."
Parking Lot Accidents
According to the National Safety Council, more than 51,000 accidents occur in parking lots and garage structures annually, resulting in 500 or more deaths and more than 60,000 injuries. And, around the holidays, parking lots become even more dangerous.
Auto insurers report the number of claims spike on Black Friday and run above normal throughout the holiday shopping season. The number of incidents is probably higher than insurance claims indicate, as many fender-benders go unreported.
The post Woman dies in Walmart parking lot crash west of Boca Raton appeared first on Traffic Center.
Powered by WPeMatico