Woman Hit, Killed By Vehicle On Port St. Lucie Boulevard In An Accident
A 41-year-old woman was killed in Port St. Lucie when a 2009 Chevy Blazer struck and killed the victim. It was reported that she had a green light and the right of way.  Unfortunately she was struck by the driver of the Chevy Blazer that reportedly ran a red light.
A wreck happened at the intersection of Port Saint Lucie and Airoso Boulevards while the woman and her daughter were trying to cross the busy intersection.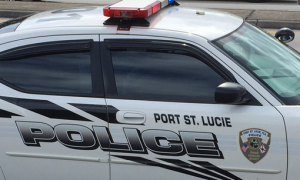 Investigators said the driver was traveling on Port St. Lucie Boulevard when he ran the stop light.  The Blazer ran the stop light at the intersection and hit the victims. Police public information officer Frank Sabol said charges may be filed against the driver of the Blazer.
The victim identified as Sarah McGregor and her teenage daughter walked in the area of Port St. Lucie Boulevard and Airoso Boulevard when the crash happened.  McGregor's daughter, Kate, suffered non-life threatening injuries and was hospitalized.  Police said the duo was taken to a hospital by emergency responders. Sarah McGregor was pronounced dead on arrival at the hospital.
Authorities are investigating the crash. Speed may have played a factor in the crash, police said.  This route is closed, causing traffic delays. Police said the roadway is not expected to reopen for several hours. Vehicles on this route are pulling to the roadside to allow crews work. It is best to use alternative routes. Please drive with caution and stay safe.
Attorney Jason Weisser of Shuler, Halvorson, Weisser, Zoeller and Overbeck comments on this accident in Port St. Lucie:  "This accident again illustrates why drivers have to be so conscientious of pedestrians to avoid tragedies like this.  It appears at this time that the driver of the vehicle was not at fault.  We will have to wait for the final report.  Of course make sure you aren't doing anything that would distract you from watching the road.  If you have been involved in an accident and want to know what your legal rights are, please contact my office for a free consultation".
The post Woman Hit, Killed By Vehicle On Port St. Lucie Boulevard In An Accident appeared first on Traffic Center.
Powered by WPeMatico