Yefim Bogomolsky, age 88, killed in West Palm Area Three-Car Crash
A three-car crash just outside the West Palm Beach city limits has killed 88-year-old Yefim Bogomolsky, Palm Beach County Sheriff's authorities said.
The accident,  involved a 2017 Chevrolet Camaro, a 2004 Suzuki Aerio, and a 2017 Volkswagen Passat.  It happened at the Okeechobee Boulevard near the intersection of North Military Trail.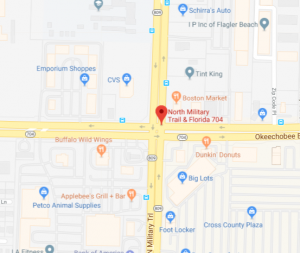 The driver of the Chevrolet Camaro lost control while heading east on Okeechobee Boulevard.  Then it hit a road median. The driver swerved right and then hit a Suzuki Aerio which was headed west. This sent the Aerio over the median and it crashed into the driver's side of a Volkswagen Passat.
None of the other two drivers was injured in the crash, which killed Yefim Bogomolsky, the sheriff's office said. Records indicate he was wearing a seat belt at the time, as was his passenger.
Yefim Bogomolsky died after the crash while his passenger, 87-year-old Lidia Bogomolsky sustained minor injuries.
The Palm Beach County Sheriff's Office currently has closed Okeechobee Boulevard currently. The closure is near the intersection of North Military Trail because of this crash.  We suggest that you avoid this route and take Haverhill Road as your alternate.  Use extra caution because of the first responders that are on the scene clearing this accident with injuries.
This is an especially busy intersection with the Lowes and Big Lot Stores on its corners.  Traffic is also slow to get through this intersection.  Please use extra caution when you are traveling through a busy intersection.
Attorney Jason Weisser of Schuler, Halvorson, Weisser, Zoeller and Overbeck comments on this accident that left two dead in West Palm Beach, Florida:  "This is a serious accident that unfortunately left two seniors dead.  We hope feel for their families in this time of loss.   If you've been injured in an accident, make sure you are properly represented by an experienced trial accident attorney."
The post Yefim Bogomolsky, age 88, killed in West Palm Area Three-Car Crash appeared first on Traffic Center.
Powered by WPeMatico