Five Tips to Prevent Motorcycle Accidents
Motorcycles are an exciting way to get out and see Florida. They offer riders a sense of exhilaration and joy. Unfortunately, they can also be extremely dangerous. Riders involved in motorcycle accidents often suffer debilitating and life-altering injuries.
At Schuler, Weisser, Zoeller, Overbeck & Baxter P.A., we want motorcyclists to see the best of Florida while staying safe on the roadways. Before you hit the road, hit the books and learn how to prevent motorcycle accidents. We have five helpful tips that can help prevent a motorcycle accident and save you from a physical and financial disaster.
If you or a loved one was injured in a motorcycle accident that wasn't your fault, don't hesitate to contact the experienced legal team at Schuler, Weisser, Zoeller, Overbeck & Baxter P.A. today.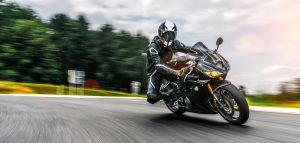 Take it Slow
Speeding is a major factor in motorcycle crashes. The National Highway Transportation Safety Administration estimates that in 2015, 33 percent of all riders involved in a fatal accident were speeding at the time of the crash. While the rush of the wind can feel exhilarating, for safety's sake, slow down. The faster you are traveling the less time you have to brake or maneuver away from potential hazards. Speeding on curves and sharp turns is also particularly dangerous. Take turns more slowly and watch for road hazards like animals, road debris, and other vehicles.
Use caution and operate at slower speeds during times of inclement weather as well. It's always better to make it to your destination safely than not at all.
Plan Your Route
Whether you are taking a major road trip or a short jaunt across town, plan your route before you leave. Map out your route, plan for road conditions or potential hazards like construction zones, and estimate the amount of time you will be out on the road. You should also check weather conditions on the days ahead of your journey and on the day of your ride.
Don't keep your plan to yourself. Share the details of your trip with a friend or family member. Provide your exact route and how long you plan to be out. If something goes wrong and you are unable to call for help, this information can be vital for tracking you down and getting the assistance you need. Contact us today.
Avoid Lane Splitting
Lane spilling happens when a rider travels between two lanes of slow or stalled traffic. Lane splitting is technically only legal in the state of California and can be a dangerous practice. While being stuck in traffic is a pain, for your own safety, do not lane split. In stop-and-go traffic, cars are not expecting a rider to be traveling beside them when all other vehicles are stopped. A car making a lane change or someone opening their door to look at the hang-up ahead can cause a significant accident.
Wear the Right Gear
Being visible is a significant issue for motorcyclists. Help other drivers on the road see you by wearing bright colors or adding reflective elements to your riding gear. You need to stand out! If you are riding at night, be sure to use your lights, and again, try to wear something that will reflect light.
It is also important to wear a DOT-certified helmet and protective clothing like long pants and leather. Gloves, goggles and other eye protection, and durable boots that cover the ankles are also recommended. Contact us today.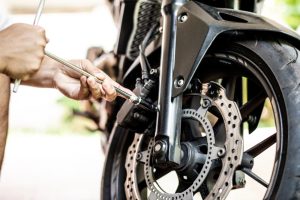 Perform Regular Maintenance
Your bike is a performance machine. Keeping it in good running condition can go a long way toward preventing accidents. Before you ride, be sure that you check the tire tread, tire pressure, and brakes. You should also ensure that all lights and turn signals are in working order before hitting the road.
You should keep up with manufacturing recalls and parts information. If a part is deemed defective or is the subject of a recall, get your motorcycle serviced as soon as possible.
Get in Touch with an Experienced Motorcycle Accident Attorney Today
You may have taken every precaution in the book, but if you come across a negligent driver, you may still end up paying the price. Motorcycle accidents are traumatic. They often leave victims struggling to cope with the physical and financial damage caused by the collision.
The Florida motorcycle accident lawyers of Schuler, Weisser, Zoeller, Overbeck & Baxter P.A. stand up for the rights of Florida motorcycle accident victims. Our legal team will work with you to build a strong claim for compensation and strive to recover the money you need to move forward with your recovery.
If you were injured in a motorcycle accident, contact our office today for a free and confidential consultation.