There is almost nothing more frightening than watching another car come barreling straight at you and not being able to do a thing to stop the inevitable impact. Head-on collisions are usually sudden and unexpected. These accidents can happen in a matter of seconds and when you least expect it. Unfortunately, they are also one of the most catastrophic types of collisions, causing severe and life-threatening injuries in many cases.
Following a head-on collision, life may look a lot different. Serious injuries can impact a victim's ability to function and accomplish everyday tasks. The cost of medical treatment can throw a once stable household into complete financial disarray. Navigating these sudden changes can be difficult, and getting the compensation you need to move forward can be challenging.
If a head-on collision has changed your life, talk to an experienced Florida car accident attorney from Schuler, Weisser, Zoeller, Overbeck & Baxter P.A.. The legal team at Schuler, Weisser, Zoeller, Overbeck & Baxter P.A. can review your situation and advocate for your best interests. That means helping you build a strong claim and seeking maximum compensation for your injuries.
For more information on how the team at Schuler, Weisser, Zoeller, Overbeck & Baxter P.A. may be able to help you achieve a favorable outcome, call our office at 561.689.8180, or reach out to us online. We can schedule a free, no-obligation case evaluation to talk about your case.
What Is a Head-On Collision?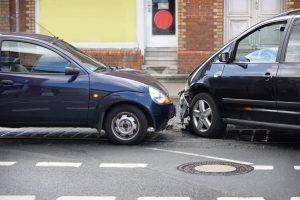 A head-on collision happens when two cars collide with each other at the front end of each vehicle. These types of crashes are particularly devastating. An IIHS safety report calculates that in 2019, 57 percent of accident fatalities were attributed to front-impact accidents. These numbers are alarming because head-on crashes are one of the least common types of car accident collisions.
Common Causes of Head-On Collisions
Unfortunately, head-on collisions are often caused by another driver's negligent actions. In many cases, these types of accidents are the result of another driver heading in the wrong direction down a roadway. Wrong-way crashes can happen when a driver enters a roadway or interstate going in the opposite direction of traffic. They can also take place when a car breaches a center boundary and ends up traveling against traffic. Common reasons for these types of incidents include:
Drowsy driving
Speeding
Improper or unsafe passing
Improper road signage or signals
Mechanical defects
Inclement weather conditions
Frontal impact collisions can also be secondary crashes. A primary impact with a car or truck may send a vehicle flying into oncoming traffic or cause the vehicle to breach a center barrier. This vehicle can end up traveling the wrong way into traffic causing a secondary head-on impact.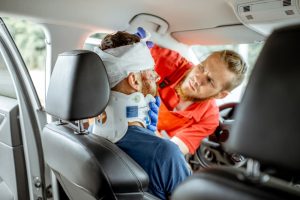 Injuries from Head-On Collisions
Although rare, head-on collisions are one of the most dangerous types of car accidents. Front-impact collisions cause much more significant injuries than other crashes since the greatest amount of force is being applied directly to the front of each vehicle. Life-threatening injuries are, unfortunately, much more common in head-on collisions. Some of the injuries that can result from a head-on impact include:
Paralysis
Facial and dental injuries
Other head, neck, and spinal injuries
Fractured bones
Broken rib cage, punctured lungs, and chest injuries
Amputations
Internal bleeding
Organ damage
Lacerations
Contusions
These types of injuries can change the course of a person's life and set them up for physical and financial difficulties. A speedy insurance settlement may not account for the future rehabilitation and medical expenses that a victim will require down the road due to the accident.
Before you accept any settlement offer from an insurance company, talk to an experienced Florida car accident attorney to make sure you are getting the money you deserve after a head-on collision. Contact us today.
Compensation for Head-On Crashes
Florida is only one of a handful of no-fault car insurance states. In a no-fault state, those injured in car collisions generally seek compensation for their injuries through their own insurance company first. Florida requires all drivers to carry personal injury protection or PIP coverage. The minimum liability on these policies must be $10,000.
PIP coverage will generally pay up to 80 percent of a victim's medical treatment costs up to the limit of the victim's policy. Unfortunately, for most victims of head-on collisions, medical costs can easily exceed the minimum $10,000 of coverage.
In significant accidents that result in "serious injuries," sometimes a victim will be allowed to file a third-party liability claim with the at-fault driver's insurer. Florida defines "serious" injuries as injures that:
Cause permanent or significant scarring and/or disfigurement
Cause a permanent or significant injury
Cause significant and permanent loss of a vital bodily function or ability
Death
The compensation that a victim may be able to recover from a third-party liability claim can vary. An injured person may be able to seek:
Medical expenses
Lost wages
Lost earning capacity
Property damage
Disfigurement
Emotional distress
Pain and suffering
In some cases, a victim may be able to file a personal injury lawsuit to recover compensation. To find out which options are available to you, contact an experienced Florida car accident attorney. An attorney will review your situation and determine which avenue is appropriate for your circumstances. Contact us today.
Reach Out to an Experienced Florida Car Accident Attorney
If you are injured in a head-on collision, you have options for pursuing meaningful compensation. To find out more about those options and how an experienced attorney can help you get the maximum compensation available, contact Schuler, Weisser, Zoeller, Overbeck & Baxter P.A. today.
At Schuler, Weisser, Zoeller, Overbeck & Baxter P.A., we are dedicated to helping Florida car accident victims seek the compensation they need for their injuries and losses. We understand that the claims process can be complicated and will work with you to help you navigate the process every step of the way. You don't have to go through this challenging time alone.
To set up a free and confidential case evaluation, call our office at 561.689.8180, or reach out to us online today. We want to be there for you during this difficult time. Find out how we can protect your rights and help you get the money you need.