You're sitting at a stoplight waiting for it to change when suddenly you're hit from behind. Your injuries can range from a minor bump to serious neck and back injuries. The first thing you should do is seek medical attention. The next thing should do is seek legal advice about getting compensation for your accident-related injuries and expenses.
If you've been involved in a rear-end accident that wasn't your fault, you need an experienced Florida car accident attorney on your side. Call Schuler, Weisser, Zoeller, Overbeck & Baxter P.A. at 561.689.8180, or reach out to our legal team online for a free consultation on your case today.
What Is a Rear-End Accident?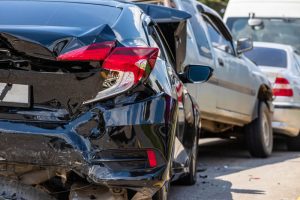 Simply put, a rear-end accident occurs when a car is struck in the back by another vehicle traveling behind it. The most frequent causes of rear-end accidents are tailgating or following too closely. Florida, like all other states, requires vehicles to maintain a safe following distance and to approach traffic signals at a speed that allows the driver time to slow down safely.
Florida has a rebuttable presumption that the driver who caused a rear-end accident is the at-fault driver. However, since 2012, Florida courts have allowed rear-ending drivers to present evidence that the other driver was partially or wholly responsible for the collision. For this reason, having a skilled attorney at your side is essential.
What Happens to Your Body in a Rear-End Accident?
Being hit from behind can cause the same injuries as any car accident, but the two most common are whiplash (neck and back spinal trauma) and head injuries. These injuries occur when the unexpected impact from behind hurls your body forward from a stationary position.
Depending on the speed of impact and the size of the vehicle that struck you, you can suffer:
Broken bones
Lacerations
Internal injuries
Concussion
Traumatic brain injury
Nerve damage
Facial contusions
Spinal injuries
Paralysis
If you are not wearing a seatbelt, you can be thrown into the steering wheel or windshield. A National Highway Transportation Safety Association (NHTSA) report found that front airbags typically do not deploy in a rear-end accident because the sensors are located at the front of the vehicle. Some newer model frontal airbags are correcting this problem, but older vehicles do not have them. If you have pressing questions about your case, don't hesitate to contact us today.
How Do Rear-End Accidents Happen?
The causes of rear-end accidents are numerous and not exclusive: one cause does not mean another cause may not also be involved. For instance, a person could be following too closely, and also texting, and also speeding. Here are some common causes of rear-end accidents:
Tailgating or following too closely
Distracted driving (eating, texting, talking on the phone)
Speeding
Hazardous road conditions (poor weather, road construction)
Hazardous vehicle conditions (poorly maintained brakes, bad tires)
Often two or more of these things combine to create a rear-end accident. Someone who is driving too fast might have been able to stop in time if they had not been following too closely for the road conditions.
Why Do You Need a Rear-End Accident Attorney?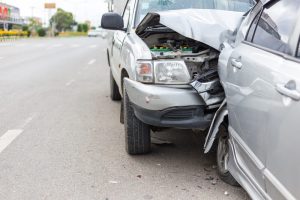 Unlike many other states, Florida is a no-fault accident state. Florida law requires that all drivers carry their own personal injury protection (PIP) insurance. Under no-fault law, when there is a vehicle accident, drivers simply file their own insurance claims with their own carriers, and their PIP covers up to 80 percent of their "reasonable and necessary" medical costs, up to the policy limits.
The problem is that PIP has a minimum required policy limit of $10,000 per person. These days, $10,000 will barely cover the emergency room visit. If you opted for the minimum required coverage, and you need additional medical treatment, or you will have lasting injuries that will require long-term care, you will need to seek payment from the other driver via legal action.
To be eligible to obtain compensation from the at-fault party or their insurance company after you have exhausted your PIP benefits, you must meet Florida's serious injury threshold. This means that your injury must be:
Permanent and significant scarring or disfigurement
Permanent and significant loss of a vital bodily function
Permanent injury other than scarring or disfigurement
Death
If your injury meets any of these qualifications, you might be eligible to pursue compensation from the at-fault party.
Florida courts follow a pure comparative negligence rule when allocating fault. This means that claimants are not barred from recovering compensation even if they are partially at fault for an accident in which they were injured. Their recovery is simply reduced by their percentage of fault. For instance, if your compensable losses were $100,000, but you were 30 percent at fault, you could still recover $70,000 in damages.
Because the other driver is allowed to present evidence that you may have caused the accident, you should have someone to help you present your case and rebut their arguments before the judge. Contact us today.
How We Can Help
If you've been in a rear-end accident caused by another driver's inattention or negligence, you need to speak with a legal professional as soon as possible. Our legal team is prepared to help you get the compensation you need and fight for you with the insurance companies and their attorneys.
Our legal team will make sure that your insurance claim is properly filed and sent in with the medical documentation required by the company. One of the main reasons insurance claims are denied or returned is a lack of supporting documents. Having an attorney handle your insurance claim for you can save you time and aggravation.
If it becomes necessary to go to trial, you should never handle it on your own. You need an experienced trial attorney like those at Schuler, Weisser, Zoeller, Overbeck & Baxter P.A.. We've had the practice and training needed to present your case to a judge or jury. We can assemble the documents, interview witnesses, and negotiate for you with the insurance company prior to trial.
If you or a loved one have been injured in a rear-end accident that wasn't your fault, call Schuler, Weisser, Zoeller, Overbeck & Baxter P.A. at 561.689.8180 today. Let us review your case and give you a free, confidential consultation about your claim. Florida's statute of limitations on personal injury cases allows four years to file a lawsuit against the person who injured you, but you should never wait till the last minute. Call, or contact us today.