Florida Rollover Car Accident Attorneys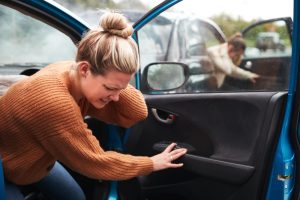 According to data from the National Highway Transportation Safety Administration (NHTSA), car accidents involving rollovers are responsible for a disproportionate number of fatalities and serious injuries. A special study commissioned by the NHTSA found that rollover accidents accounted for only three percent of vehicles in crashes but one-third of all accident fatalities. According to the Insurance Institute for Highway Safety (IIHS), 6,358 vehicle occupants died in rollover crashes in 2019.
If you or a loved one were injured or killed in a rollover car accident, you need an experienced lawyer by your side who can investigate the accident, advise you about your legal options, and advocate for you and your interests. The lawyers of Schuler, Weisser, Zoeller, Overbeck & Baxter P.A. have over 40 years of experience working with accident victims and their families to pursue full and fair compensation in these difficult and often tragic cases.
Our team of Florida car accident attorneys understands the unique circumstances involved in rollover accidents and the terrible impact they can have on your health, finances, family, and future. The last thing you want or need to worry about is a lawsuit. Schuler, Weisser, Zoeller, Overbeck & Baxter P.A. can handle all the legal minutiae so that you can focus on your recovery. Put us to work fighting for you. Call Schuler, Weisser, Zoeller, Overbeck & Baxter P.A. at 561.689.8180 today for a free and confidential consultation.
What Is a Rollover Car Accident?
A rollover is an accident in which a vehicle tips onto its side or roof at any point during the crash. A rollover accident can occur when a car collides with another vehicle, a fixed object, or nothing at all. While 74 percent of rollovers involved a collision with another object, 26 percent of vehicles rolled over despite not impacting anything at all.
What Happens to Your Body in a Rollover?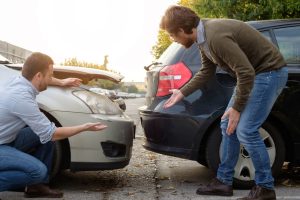 Rollover accidents can inflict serious and even lethal harm to vehicle occupants. Here are some of the injuries that can happen to your body if you are involved in a rollover accident:
Lacerations and contusions – On the milder side, rollover accident victims can expect lacerations and contusions across their body from the impact of the accident and resulting projectiles.
Brain injury – Rollover victims may experience trauma to their head when it collides with the steering wheel, sides of the vehicle, other objects, or simply whiplashes back and forth due to the sudden impact. Such trauma can cause concussions, mild brain damage, or long-term traumatic brain injuries.
Internal bleeding or organ damage – Internal injuries may not be immediately obvious but can cause serious health concerns and even death.
Crushed or broken limbs – Rollover accident victims can become pinned in the vehicle, leading to crushed or broken limbs. Impact during the accident can also cause fractures or broken bones.
Amputations – Victims who are pinned in rollover accidents may experience extensive damage to their limbs requiring a full or partial amputation.
Neck and back injuries or paralysis – Neck and back injuries can range in severity from mild whiplash to total paralysis. Rollover accidents in which victims are ejected from the vehicle cause the most serious damage to the spinal cord.
Why Do Vehicles Rollover?
There are many reasons why a rollover accident may occur:
Type of vehicle: While any vehicle can experience a rollover accident, pickup trucks and SUVs are more prone to rollovers. This is because their center of gravity is higher than that of a car, such as a sedan. Rollover accidents involving pickups and SUVs also tend to be more deadly.
Excessive speed: Driving at high speeds significantly increases the risk of a rollover in an accident. If a driver swerves suddenly or collides with another vehicle or object, their high rate of speed can cause the vehicle to tip over on its side once or several times.
Side impact by another vehicle: When a vehicle collides with the side of another vehicle, it could cause the impacted vehicle to tip or flip over.
Running off the road: If a vehicle runs off the road, the change in elevation and/or landscape can result in a rollover accident.
Trying to avoid an impact: Drivers attempting to avoid impact with another vehicle or an obstruction in the road, such as an object, individual, or animal, may swerve suddenly, causing their vehicle to tip over and potentially flip over multiple times.
Road conditions: Poor road conditions can lead to rollover accidents. For example, inclement weather can result in slick roads, increasing the likelihood of a rollover.
Driver error: Too often, the cause of a rollover accident can be attributed to driver error. Distracted driving, drunk driving, drowsy driving, or simply inexperienced driving increases the likelihood of a serious accident such as a rollover.
Why Should You Hire a Florida Rollover Accident Attorney?
If you or a loved one were involved in a rollover accident due to another party's error or negligence, you may be wondering what your legal options are for holding the guilty party accountable. Florida is one of only a few states with a no-fault law. This law requires that all Florida drivers maintain personal injury protection (PIP) insurance coverage. When two drivers are involved in an accident, each driver files a claim with their own insurance company to cover the costs of medical bills and other financial losses caused by the accident. PIP will cover up to 80 percent of "reasonable and necessary" medical treatments, up to a limit of $10,000 per person.
Unfortunately, rollover accident injuries are often so extensive and serious that PIP coverage fails to provide enough compensation to fully recover from the accident. That's why you need to hire an experienced Florida rollover accident attorney who understands the law and can fight to get you the financial support you need and deserve.
Call Schuler, Weisser, Zoeller, Overbeck & Baxter P.A. today at 561.689.8180 to speak with our team of highly-trained rollover accident lawyers.