Florida T-Bone Collision Attorneys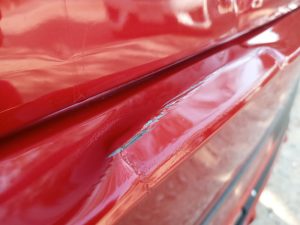 Are you dealing with pain from injuries you sustained in a T-bone collision that was the fault of a negligent driver? Are you overwhelmed with emotional trauma resulting from the accident and facing mounting medical bills for treatment of your injuries? You might be able to recover compensation for these and other losses by taking action to hold the party at fault for the collision accountable.
The Florida car accident attorneys of Schuler, Weisser, Zoeller, Overbeck & Baxter P.A. have over 40 years of experience representing injured parties and helping them seek the compensation they're owed. We've obtained hundreds of millions of dollars in settlements and awards for our clients.
To schedule a free consultation, call us right now at 561.689.8180 or contact us online.
What Is a T-Bone Collision?
When a vehicle collides head-first into the side of another vehicle, it's called a T-bone collision. T-bone collisions, also referred to as side-impact collisions, can be particularly dangerous when they occur at high speeds. Think of the letter "T" when picturing what a T-bone collision looks like.
What Causes T-Bone Collisions?
There are a few common causes of T-bone collisions. A driver may run a red light, causing a motorist in a lane of travel perpendicular to the green-light traffic to collide with the red light-running driver. The same can happen at a 2, 3, or 4-way stop. Alternatively, a driver could make a left turn at an intersection and be T-boned by another driver in a perpendicular lane. No matter how they occur, T-bone collisions are usually caused by a negligent driver who either violates a traffic law or is distracted when they should be focused on the road.
Injuries Sustained in T-Bone Collisions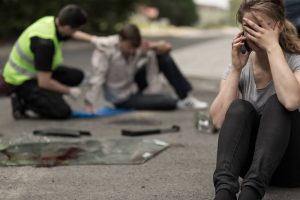 T-bone collisions can cause severe injuries, especially to the passengers and/or driver sitting on the side where the vehicle is impacted. The following injuries can be caused by T-bone collisions:
Broken bones
Loss of limb
Traumatic brain injuries
Neck injuries
Back injuries
Head injuries
Paralysis
Muscle sprains and strains
Burns
Internal bleeding
Lacerations
Organ damage
Vision or hearing impairment
Just as debilitating as the physical injuries are the psychological injuries you may suffer from after a T-bone collision. When you're involved in a traumatic event such as an auto accident, you may be consumed by overwhelming depression, anxiety, panic attacks, and post-traumatic stress. The effects of the accident and your injuries on your mental health can be so severe that you have difficulty getting inside a vehicle. This, alone, can impact your ability to carry on with your life each day, not to mention how your mental health could affect your employment, your relationships, and your quality of life.
Who Is Liable in a T-Bone Collision?
The party who caused the T-bone collision that you were injured in should be discovered in an accident investigation. Typically, the driver who didn't have the right of way at the time the accident occurred is the party responsible for the accident and, thus, should be liable for compensating the injured party. If you were driving through a green light or after stopping at a stop sign at an intersection and are suddenly T-boned by another car, the driver who hit you might be at fault, or liable. The same could be true if you hit a car making an illegal left turn.
Do I Need a T-Bone Collision Accident Attorney?
Any person who was injured in an auto accident that wasn't their fault can file a personal injury claim without an attorney. You would be ill-advised, however, to pursue compensation for your injuries on your own.
Florida is a no-fault state, meaning that when you're injured in a collision, you must first go to your own Personal Injury Protection (PIP) insurance. You must get treatment within 14 days of the accident. If you don't, your PIP carrier isn't required to pay your medical providers. Once you have exhausted your PIP coverage, if you meet the serious injury threshold, you may pursue compensation from the at-fault party's insurance company.
When you file your claim with the insurance company, they will try everything they can to get you to accept a low settlement. They'll likely offer you compensation that's much lower than the value of your claim, or they'll offer you no compensation at all by claiming that you were entirely responsible for the accident. Most people don't know how to combat these tactics used by insurance companies.
The benefit of having an experienced car accident attorney on your side can't be understated. When insurance companies know that you have legal representation, they know they can't take advantage of your unfamiliarity with the claims process. At Schuler, Weisser, Zoeller, Overbeck & Baxter P.A., our car accident attorneys are skilled at dealing with insurance companies and are prepared to counter any of the tactics they commonly use. We will negotiate on your behalf with the insurance company to try to get you the maximum amount of compensation you deserve.
If the insurance company refuses to fairly compensate you for your injuries, you and your attorney can file a personal injury lawsuit against the negligent driver. Although you're not required to have a lawyer to file a lawsuit, you'll be glad to have a knowledgeable attorney by your side who knows the ins and outs of filing a case and preparing a lawsuit for trial. If you try to handle it on your own, you may get less compensation than you would if you'd had an attorney.
If you're contemplating pursuing compensation for your injuries by yourself because you're worried that you can't afford an attorney, we're here to assuage those concerns. We care about our clients and want to do everything we can to help them get the justice and compensation they're owed. You don't have to pay us any upfront legal fees. We aren't paid until we get compensation for you.
Call for Help Now
If you're ready to pursue compensation for your T-bone accident-related injuries, call Schuler, Weisser, Zoeller, Overbeck & Baxter P.A. at 561.689.8180 today. You can hold the negligent driver accountable, and the Florida car accident attorneys of Schuler, Weisser, Zoeller, Overbeck & Baxter P.A. are here to help.
Call 561.689.8180 to schedule your free consultation.