How Long After a Car Accident Can You Claim an Injury In Florida?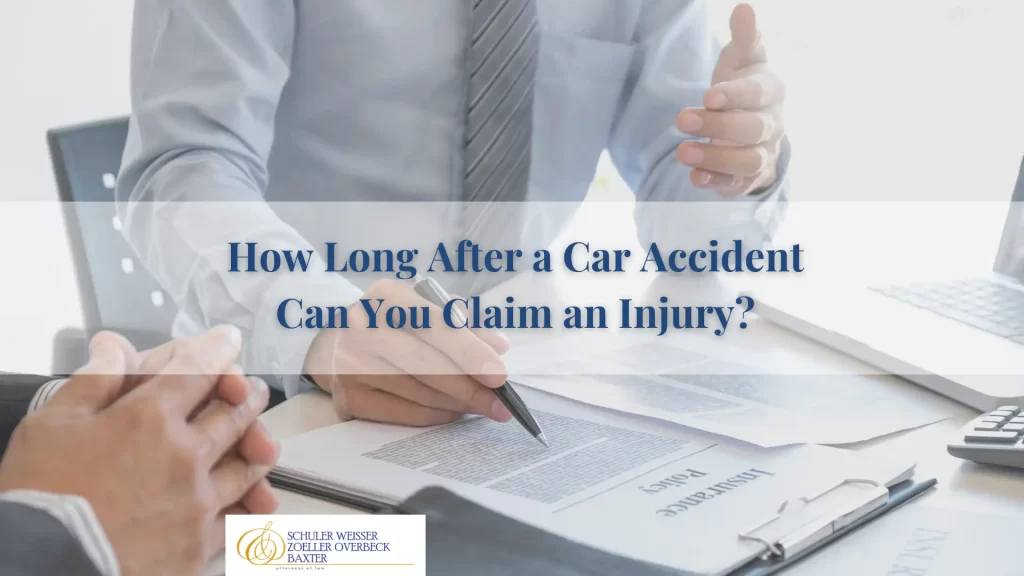 Many people involved in car accidents don't realize they sustained a severe injury until days, weeks, or even months afterward. This delay does not make their injuries any less valid, but it can create problems when it comes to claiming compensation for an injury. The longer you wait to take legal action after an accident, the harder it is to prove a link between the crash and your injuries.
In most cases, the ultimate deadline for claiming compensation for a car accident injury is two years from the crash date. That's how long Florida's statute of limitations for negligence-based claims gives you to file a personal injury lawsuit. (The statute of limitations used to be four years from the crash date, but the law recently changed.) However, waiting too long to file a claim will significantly hamper your ability to recover compensation for your injuries.
No matter how long it's been since you sustained your car accident injuries, the West Palm Beach personal injury attorneys at Schuler, Weisser, Zoeller, Overbeck & Baxter P.A. can help you recover the money you need. Below you'll find more information on Florida's statute of limitations for personal injury cases, why this law matters for your case, and how we can help you recover fair compensation for your injuries.
Why the Statute of Limitations Matters in a Florida Car Accident Case
Most car accident cases in Florida end with an insurance settlement well before the case goes to trial. However, the threat of a trial is a key piece of leverage when negotiating an insurance settlement. Without the threat of litigation hanging over them, insurance companies are more likely to deny your claim or try to reduce its value. Furthermore, you have no legal mechanism to force someone to cover your injuries once the statute of limitations expires. For these reasons, acting immediately after a collision is essential.
Why Have a Car Accident Statute of Limitations?
At first glance, it might seem odd to limit the time someone has to claim an injury and file a lawsuit after a car accident. After all, your injuries might last for many years after a crash, so why place a time limit on your right to recover compensation? However, there are several good reasons to have a statute of limitations in place for these cases, such as:
Ensuring Swift Justice: Statutes of limitations encourage you to seek justice promptly. With a deadline in place, you'll act more quickly to secure compensation for your injuries, ensuring timely resolution and reducing prolonged stress.
Fairness for All Parties: These time limits protect both you and the defendant, ensuring that evidence and witness testimonies remain fresh and reliable. This way, you can trust that the legal process is fair and unbiased for everyone involved.
Preserving Evidence: Over time, essential evidence may be lost, damaged, or become less reliable. By setting a deadline, statutes of limitations safeguard crucial information, helping you build a stronger case and increasing your chances of a successful outcome.
Maintaining an Efficient Legal System: Statutes of limitations streamline the legal process, reducing the number of cases bogging down the courts. By encouraging prompt action, the system can better serve those seeking justice, like you, who deserve a timely resolution.
Closure and Healing: The emotional and physical toll of an accident can be overwhelming. By setting a time limit, statutes of limitations encourage you to address your legal rights and focus on healing, helping you find closure and move forward with your life.
Exceptions to Florida's Car Accident Statute of Limitations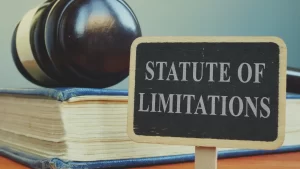 While two years from the crash date is now the typical deadline to claim an injury and file a Florida car accident lawsuit, there are a few exceptions you should know. These exceptions include:
The Discovery Rule: If your injuries aren't apparent right away, the discovery rule may apply. In such cases, the clock starts ticking when you first become aware of the injury or should have reasonably discovered it, giving you a fair chance to seek justice.
Fraudulent Concealment: If the defendant deliberately conceals their wrongdoing, you have extra time to file a lawsuit. This ensures that individuals acting deceitfully don't escape accountability for their actions.
Legal Disability: If you're a minor, incapacitated, or deemed mentally incompetent at the time of the accident, the statute of limitations may be paused until your disability heals or you have your 18th birthday. This safeguard provides vulnerable individuals with the opportunity to pursue a claim when they're fully capable.
Absent Defendant: If the defendant leaves Florida after the accident but before a lawsuit is filed, the time spent outside the state may not count toward the statute of limitations. This exception prevents defendants from avoiding responsibility by fleeing.
Don't Wait to Speak to Our Florida Car Accident Attorneys
Whether you sustained your injuries today or months ago, our West Palm Beach car accident lawyers can protect your rights and help you recover the money you need. Call our team today at 561.689.8180 or visit our contact page for your free case review.
Related Reading: