How to Prevent Autumn Motorcycle Accidents
Some motorcyclists put their bikes away after Labor Day. But some of the best riding weather can happen in September and October. If you plan to ride through the fall weather, it's important to be sure the bike is ready to handle the changing season.
According to the Insurance Information Institute, in 2019, there were 8.5 million registered motorcycles, 84,000 injuries, and 5,014 accidents that resulted in a fatality. The autumn months require riders to adjust to different conditions, such as wet or cold road conditions, fallen leaves, and more active wildlife. Below are safety tips that can help keep bikers and other drivers on the road safe during the autumn months.
If you have pressing questions about your own accident injury, don't hesitate to contact the experienced legal team at Schuler, Weisser, Zoeller, Overbeck & Baxter P.A.. We're here to help.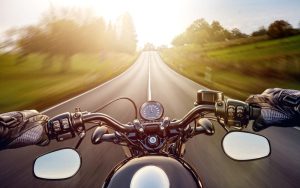 Bike Maintenance and Repairs
After riding all summer, your bike may need some maintenance and repair to be prepared for fall weather road conditions. It is crucial you routinely inspect and do proper maintenance on your bike to keep it in good working condition. Check the fluid levels and ensure your brake fluid is clean. Your tires also need maintenance to handle the colder road conditions. During the fall weather, your bike gets less traction on colder concrete. Your tire tread depth should be at least 2/32 of an inch to channel water from the surface of your tires.
During the fall months, you may want to change your tires for touring tires that offer better traction on the road. Sporty tires may work well in the summer months, but the soft rubber doesn't grip the road as effectively.
The days are getting shorter in the fall. You'll need to inspect all your lights for safety. You never want to ride in the dark without properly working headlights, brake lights, or signal lights. The oil should also be changed at regular intervals. This helps keep engine parts cool, lubricated and reduces noise generation. It is also important to use the correct oil to properly lubricate and separate the engine parts. Contact us today.
Weather and Road Conditions
The changing weather during the autumn months influences road conditions and wildlife activity. Leaves can cause the road to be quite slippery, which can cause an accident. Admiring the changing colors on the trees can also be a dangerous distraction. If you want a closer look or to get some photos, pull off the road and out of traffic. Watch out for other motorists who may be leaf-peeping and not paying attention the way they should. They may brake suddenly or make other unexpected maneuvers.
Deer are especially active during dawn and dusk, often feeding at the side of the road. Other wild animals are also actively foraging for food. Be sure you have maximized your peripheral vision and have no obstructions in your helmet or visor. Stay alert to hazards and keep your eyes moving when riding where wildlife is likely to be present.
Pay attention to the weather forecast. While a cool, crisp morning may be tempting, remember that even a thin layer of frost on the road can create slick conditions. Contact us today.
Wear the Right Clothing
There are many temperature changes during the autumn months. Early morning and late evening can be chilly when you're riding 50 mph on the roads. However, it can also climb into the mid-70s or higher during the day. The best solution to make it through the day comfortably is to dress in layers. Use an insulating base layer that is comfortable and breathable. Over that, use your riding clothes and pack an extra fleece for added warmth if needed.
Leather riding jackets or chaps are perfect for fall weather. They help protect you from the wind and offer an added layer of protection if you have an accident. A good pair of synthetic glove liners under your biker gloves help keep your fingers warm and functioning in the morning and evening hours. You can switch to fingerless leather gloves in the afternoon when it gets warm.
Consider packing rain gear when you're riding. It's no fun getting caught in a popup rainstorm, especially during the evening hours when the cold and wet can lead to hypothermia.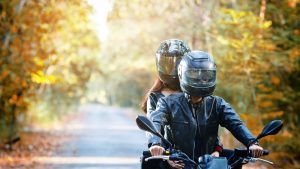 What to Do After a Motorcycle Accident
If you are involved in a motorcycle crash, it's important to take precautions to protect your health and your legal rights.
Call the police: A police report can serve as a valuable piece of evidence in an insurance claim or if you file a personal injury lawsuit.
Get information: Ask all drivers involved in the crash for contact and insurance information. Get the names and phone numbers of all witnesses as well. Take pictures of the scene from as many angles as possible. Remember to write down the details of what happened. You may think you won't forget the details, but hours or days later, they may be difficult to recall. Note the weather, speed limit in the area, lighting, and other details of what happened.
Do not admit fault: Most accidents are not straightforward, and motorcycle accidents can be complicated. Do not apologize or admit fault, even if you think you are liable.
Contact the motorcycle accident lawyers at Schuler, Weisser, Zoeller, Overbeck & Baxter P.A. to discuss the details and whether you may have a case against the other driver or drivers. Our experienced and compassionate legal team work on contingency. This means that we don't collect a fee for our services until we get compensation for you. Call our offices today at 561.689.8180, or reach out to us online for your free consultation.