Four Ways to Prevent Truck Accidents
Sharing a road with a commercial truck can be a scary experience. Tractor-trailers, flatbeds, and other large vehicles tower over passenger cars. They're long, heavy, and contain various cargo that they transport throughout the state. When an accident involves a commercial truck, the smaller vehicle's occupants often sustain debilitating and life-threatening injuries.
Truck accidents can happen anywhere, to anyone. When you see a commercial truck nearby, you should take the necessary precautions to avoid getting in its way. Truck drivers face various challenges while operating an 80,000-pound vehicle. You can't depend on them to keep you safe.
Below are four things you should do to prevent an accident if you cross paths with a commercial truck.
Stay Away from Blind Spots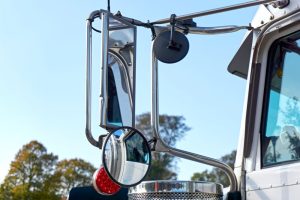 Tractor-trailers and other commercial vehicles have more blind spots than passenger vehicles. A compact car only has two blind spots – one on either side. However, a large truck has four blind spots. A bigger vehicle means bigger blind spots and more difficulty seeing others on the road.
The front blind spot extends up to twenty feet in front of the truck's cab. The truck driver can't see your car if you're traveling within twenty feet. They might speed up and crash into the back of your vehicle.
The blind spot on the left side of a truck starts at the sideview mirror of the cab and runs along the side of the truck to the middle of the trailer. It also extends out up to one entire lane. When you want to pass a commercial truck, you should be aware of your location. As long as you can speed up safely, you should pass the truck quickly, so you're not riding in the driver's blind spot.
The right side of a truck has a blind spot that spans the length of the cab and extends out two lanes towards the back of the trailer. You should approach a commercial truck with extreme caution. If passing on the left isn't possible, you might have to pass it on the right. However, you shouldn't stay in the right blind spot for long. Even if there's a lane separating your vehicles, the trucker could have trouble seeing you in their sideview mirror.
At the back of a commercial truck is a fourth blind spot. This one extends up to thirty feet behind the trailer. Following any vehicle too closely is dangerous. It's particularly risky if you're behind a large truck. You should maintain adequate distance in case the truck driver slows down or brakes suddenly. If you're tailgating, you likely won't have enough time to stop or maneuver out of the way to avoid a crash.
Keep Your Distance
You should pay attention to your surroundings at all times. Watch for commercial trucks in your path. It's never a good idea to drive near a truck for too long. Whether you're trying to pass or creeping along the road in heavy traffic, keep your distance from any nearby tractor-trailers.
When you're close to a commercial truck, it increases your risk of becoming involved in an accident. If the truck driver swerves to miss a pothole, they could sideswipe your vehicle. A worn-out tire on the truck could explode, launching debris in your direction. Or the trucker could brake suddenly, causing you to collide with the back of the trailer if you're driving too close.
Use Caution When Merging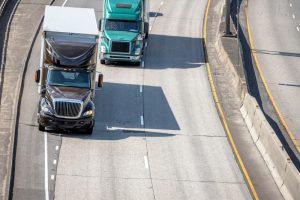 If you have to change lanes, prepare adequately. That means use your turn signal and check your blind spots before maneuvering your vehicle into the next lane. A truck driver won't have enough time to brake if you quickly pass in front of their truck without warning.
Changing lanes requires careful planning and execution. When you don't take the necessary steps or become distracted, you could enter the path of an oncoming truck and end up in the driver's way. Ensure there's enough space for your car and slowly move into the next lane. If there's a truck occupying the lane, wait for them to pass.
Avoid Distractions
Distracted driving is a common reason accidents happen. You must remain focused on the road ahead whenever you're operating your car. If you look away even for a split second, you could become involved in an accident with another vehicle.
You could prevent a truck accident if you don't allow distractions to pull your attention away from the task of driving. Texting, eating, drinking, and singing along to the radio are all forms of distraction. Avoid anything that prevents you from recognizing perceived dangers and reacting appropriately.
Contact Us
If you were injured in an accident involving a commercial truck, contact Schuler, Weisser, Zoeller, Overbeck & Baxter P.A. today. Our Florida truck accident lawyers have over 40 years of experience representing clients in their cases. We will fight for you to recover the maximum compensation you deserve.
Call 561.689.8180 now for your free consultation.