Is Mediation Legally Binding?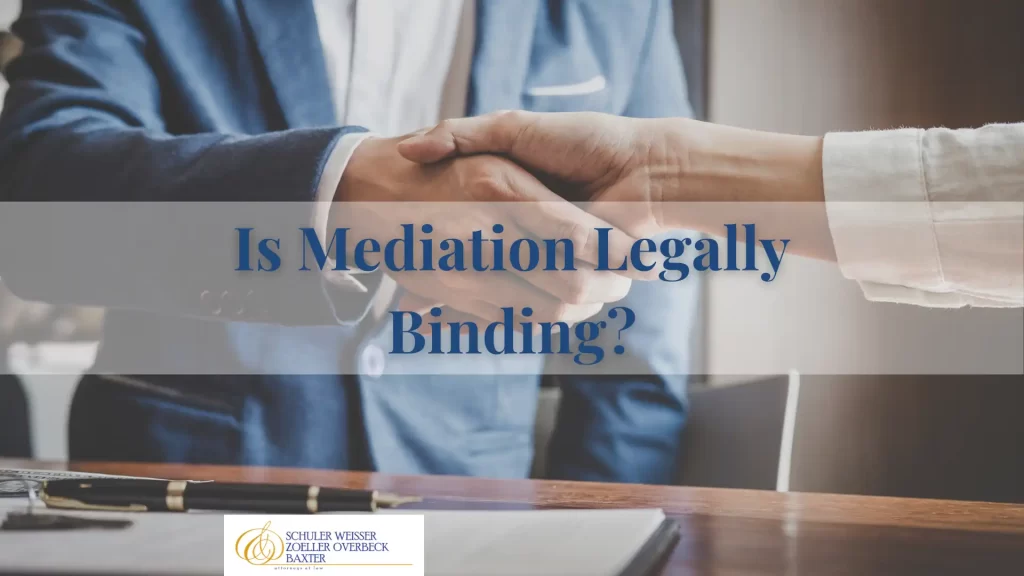 Mediation is a structured process in which a neutral and impartial third party assists the parties in negotiating a mutually acceptable resolution. The mediator is generally an attorney with experience in alternative dispute resolution (ADR) and likely has a basic knowledge of the relevant law. Their job is to keep the focus on the relevant facts of the case and assist the parties in reaching an acceptable agreement to all parties, which can be done by pointing out weaknesses, strengths, or how much may be awarded if the case goes to trial. Mediation can be entered voluntarily or be required by the court in which the case is filed. Whether mediation is court-ordered or entered voluntarily by the parties, agreements reached during mediation do not become legally binding until each party has signed the mediation agreement.
When Is Mediation Required in Florida?
In Florida, mediation can be required by statute or contract. For example, in an employment contract, a mediation clause may require parties to mediate before filing a lawsuit; however, in personal injury cases, mediation will usually be entered voluntarily or required under a statute.
Under Florida law, a court must, upon request of at least one party, refer any civil action filed for compensation to mediation, provided that the requesting party is willing to pay the cost of mediation or both parties can afford mediation if it is equitably divided and the case does not fall within an exception.
What Are The Benefits of Mediation?
Mediation has become popular among both plaintiff and defendants because of the many benefits, which includes:
Confidentiality: Most mediation communications are confidential because it encourages open and honest communication between the parties. Mediation is an informal, nonconfrontational conversation that allows parties to reach a mutual agreement that a mediator guides. Communication that is not confidential during a mediation session includes discussion concerning a crime or the concealment of criminal activity, communication about professional misconduct that occurred during mediation, or discussions about professional malpractice
More Informal Process: Mediation is meant to be a nonconfrontational negotiation between parties to reach a mutually agreeable resolution. The more formal a conversation, the less likely parties are to be open and honest about the strengths and weaknesses of their case.
Lower Cost: Trials are known to be extremely expensive because of the manpower that it takes to properly prepare for a trial. Whereas the cost of preparing for mediation is reduced because of the hours it takes to prepare and because mediators usually cost less than expert witnesses, which may be necessary for trial depending on the case.
For example, in Florida, a court-ordered mediator may charge $40 per hour for cases in county court. However, if the mediation is entered voluntarily, the parties will enter a fee arrangement that may allow for a per-hour rate or a flat fee.
Speed: When mediation is successful, a resolution is usually reached within one or two sessions of three or four hours and does not require as much preparation as a trial. Mediation will end once the parties enter an agreement or the mediator determines that an agreement cannot be reached.
Mediation agreements are enforceable: While agreements met verbally during mediation are not enforceable, once the parties sign a written mediation agreement, that agreement becomes legally binding. Therefore, if the mediation agreement ends with a legally binding mediation agreement, the court will enforce it like any other legally binding contract.
Does Mediation Mean Settlement?
No, mediation does not necessarily equal a settlement agreement. The parties must sign a written mediation agreement that will constitute an enforceable settlement agreement. There are a few circumstances in which a mediation agreement is not legally enforceable, such as:
Mental incapacity
Undue influence
Duress
Fraudulent misrepresentation
What Are the Consequences for Breaking a Mediation Agreement?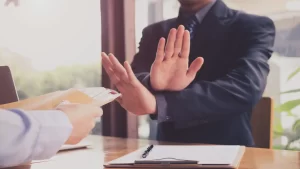 Once both parties sign a mediation agreement, it becomes an enforceable contract. This means that violating the agreement can result in the original lawsuit being refiled in addition to a claim for contract violation.
If the mediation was court-ordered, violating the contract violates a court order. This may result in the case being immediately brought to a judge, who will decide what legal actions will be taken, such as contempt of court.
Contact Us Today
If you have filed a claim and are considering whether mediation is a good option or have been ordered to go to mediation by the court, contact an experienced attorney at Schuler, Weisser, Zoeller, Overbeck & Baxter P.A.. Our Florida personal injury attorneys are skilled, knowledgeable, and ready to assist you in fighting for your best interests and get you the compensation you deserve.
Contact us today at 561.689.8180 or online for a free consultation and to learn more about your legal options.