How Long Does Mediation Take?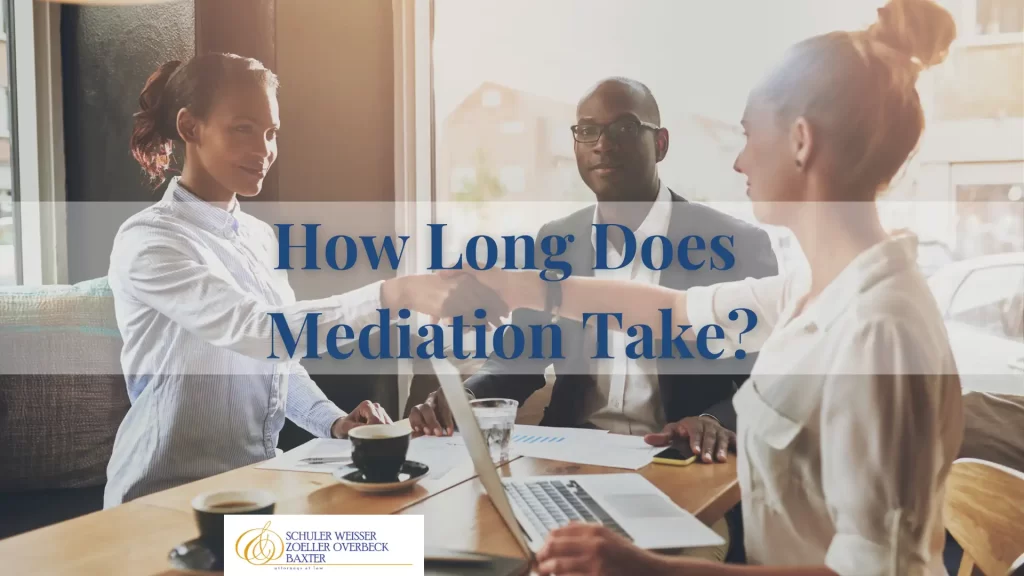 The time it takes to mediate an injury case will depend on several factors, including the complexity of the case, the number of parties, and each party's approach to it. Some personal injury claims can be mediated in weeks or months, while others may take longer to resolve.
If the parties have been making progress during a session but cannot reach an agreement, there will likely be an opportunity to schedule an additional session or sessions. Mediation generally results in a resolution faster than if the case goes to trial.
What Is Mediation?
Mediation is meant to be a confidential, informal, and nonconfrontational conversation between parties in the presence of an impartial and neutral third party. During mediation, the parties will discuss their case's strengths and weaknesses to reach a mutually agreed resolution. A mediator is usually an attorney with experience in alternative dispute resolution (ADR) who keeps the conversation focused and guides the parties to a solution. However, the mediator cannot provide therapy or legal advice, although they may also provide their opinions and suggest potential resolutions.
Sometimes parties will enter mediation before a lawsuit is filed. In other cases, they will enter mediation after the lawsuit is filed voluntarily or through a court order.
What Happens After Mediation?
What occurs after mediation depends on how and why mediation ends. For example, mediation may end because parties mutually agree to resolve the entire case or specific matters. However, it can also terminate when the mediator determines that the parties are at an impasse and will not reach an agreement.
What Happens After a Successful Mediation?
When mediation is successful, the parties will enter a written agreement memorializing the verbal agreement made during mediation. Once the mediation agreement is in writing and all parties sign it, the agreement will become an enforceable contract. Typically, a mediation agreement will include the following:
The defendant will pay the injured party as outlined in the agreement.
The causes of action will not be pursued further.
No additional injuries or losses will be claimed from the incident being discussed.
Once the agreement is an enforceable contract, the non-breaching parties can pursue the underlying claims and additional claims for breach of contract if someone breaches the agreement.
What Happens If Mediation Fails?
When mediation ends because the mediator determines that the parties are at an impasse, meaning that they will not reach a mutual agreement, there are several options for continuing to work towards a resolution, including:
Changing the mediator – Mediation is not legally binding unless a written agreement is entered. This means that both parties can agree to use a different mediator if they believe it will improve their chances of success.
Independent negotiation – When mediation is unsuccessful, that does not mean that parties cannot continue negotiating a settlement agreement. If mediation is not improving the negotiating process, an experienced attorney may recommend that settlement continue to be negotiated independently of mediation.
Arbitration – While mediation is not legally binding, the opinions of a certified facilitator during arbitration may be legally binding. As a result, parties may choose to go to legally binding arbitration to reduce their costs compared to if they went to trial. Not all arbitrations are legally binding, meaning if the parties choose a non-binding arbitration, they will be allowed to go to trial if the arbitration fails.
Trial – When a lawsuit is filed, the mediator will inform the judge that mediation was unsuccessful, and the judge will schedule a date for trial.
In some cases, mediation will only fail in connection to a few issues, meaning that the parties were able to resolve some but not all matters at hand. In that case, the parties will enter a signed agreement for the issues that have been resolved and the remaining issues that need to be. You can do that by changing the mediator, independently negotiating them, through arbitration, or by going to trial for the remaining issues.
How Long After Mediation Can You Go To Court?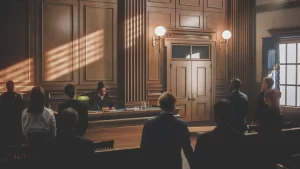 In Florida, the
statute of limitations
for personal injury claims is four years, meaning an individual has four years from the date of the injury to file a lawsuit. If you have a medical malpractice claim or need to file a wrongful death action after a loved one's untimely passing, the state gives you two years to file a lawsuit to seek compensation in court.
If you can't settle your case through mediation and decide to go to court, you must do so before time runs out to file a lawsuit. The time frame between mediation and going to court can vary since you'll need time to prepare your case and schedule a court date. However, it is essential to keep in mind that the clock is ticking, so it's best to file a lawsuit as soon as possible if you decide not to settle through mediation.
Contact An Experienced West Palm Beach Injury Attorney Today
Suppose you have a personal injury case and believe mediation is a good option for you or have participated in an unsuccessful mediation. In that case, you'll want an experienced West Palm Beach personal injury attorney of Schuler, Weisser, Zoeller, Overbeck & Baxter P.A. on your side. Our attorneys are skilled and knowledgeable in personal injury law and mediation procedures. Contact us to learn more about your legal options.
You can reach us by calling 561.689.8180 or online for a free consultation.