Florida Intersection Car Accident Lawyers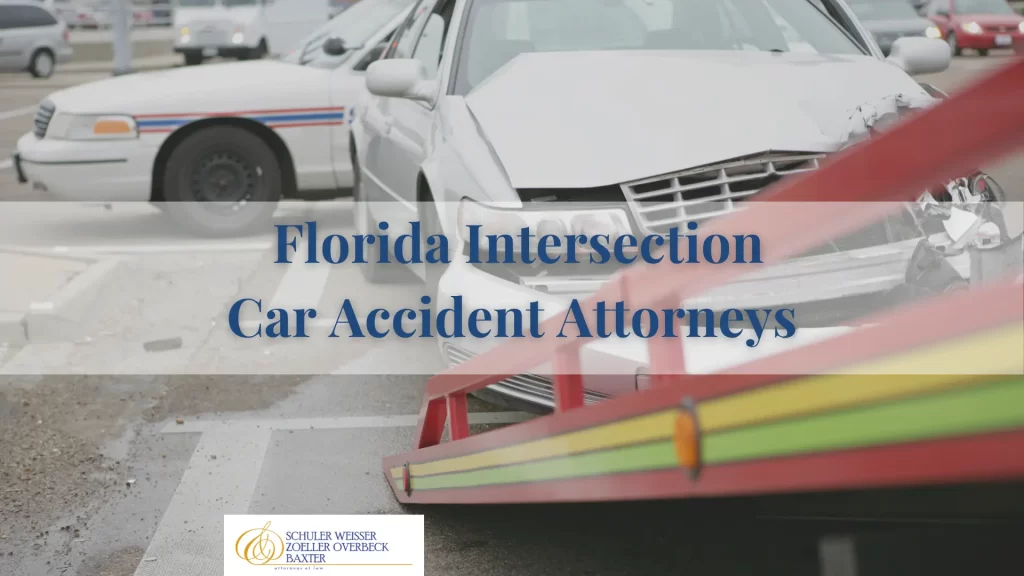 One of the most dangerous places on the road is at an intersection. In 2020, Florida Highway Safety and Motor Vehicles recorded 928 fatal intersection accidents. Intersections are areas where drivers must exercise more caution, yet the opposite may occur. Careless motorists can blow through intersections, ignore traffic signals, or fail to yield. These are all aggressive driving behaviors that can result in a catastrophic collision, one that has the potential to change your life. At Schuler, Weisser, Zoeller, Overbeck & Baxter P.A., we've represented accident victims for over 40 years. Our intersection car accident lawyers in Florida understand how devastating it can be to be involved in an intersection accident that wasn't your fault.
You may be struggling physically and financially, unable to get clear about what happens next. Our legal team can reassure you that you have options for recovering meaningful compensation after an intersection accident, and we want to help.
If you've been hurt by a careless driver in an intersection collision, call an experienced Florida car accident attorney with Schuler, Weisser, Zoeller, Overbeck & Baxter P.A. today. We can review your case for free, help you understand your rights, and fight to get you the money you deserve. Call us now at 561.689.8180 to set up your free and confidential consultation.
What Is an Intersection Accident?
A staggering number of car accidents happen at or near intersections. The National Highway Traffic Safety Administration estimates that over 50 percent of accidents occur at an intersection or nearby. What is an intersection accident? An intersection accident is a collision that occurs in an area where vehicles meet at a junction or where two or more roads intersect.
Since intersections are areas where traffic patterns can change, and vehicles may be going in different directions, they are inherently a bit more dangerous than other areas of the roadway. However, it is generally the careless or aggressive actions of overzealous motorists that cause most intersection collisions.
Common Causes of Intersection Accidents
Carelessness behind the wheel is the number one cause of intersection accidents. How many times have you seen a near-miss because someone tried to beat the light or because they weren't paying attention to a posted traffic sign? When motorists take reckless or aggressive measures to make it through an intersection, a significant accident can be the result. Common causes of intersection accidents include:
Distracted driving
Driving while drowsy
Driving under the influence
Speeding
Failing to yield
Following too closely or tailgating
Ignoring traffic signs or signals
Racing
Traffic laws are in place for a reason. Disregarding signs, signals, or right of way to make it through an intersection or to save a couple of minutes in commute time is dangerous behavior.
Injuries Associated with Intersection Accidents
Consider the types of accidents common in intersections, accidents such as side-impact crashes, rollovers, and head-on collisions. These are examples of some of the most devastating types of car crashes on Florida roadways, making intersection accidents particularly traumatic for victims.
Intersection accidents can result in catastrophic injuries, immense property damage, and significant financial losses. Some of the most common injuries associated with intersection crashes include:
Traumatic brain injury
Whiplash
Paralysis
Neck and spine injuries
Amputation
Facial injuries
Organ damage
Internal bleeding
Broken bones
Soft tissue damage
Burns
Contusions
Lacerations
You may require extensive medical treatment after an intersection accident. A hospital stay, surgery, physical therapy, and rehabilitation are not out of the question. Unfortunately, while you cope with the physical trauma of an intersection accident, you may also be racking up significant medical and repair bills. An intersection accident can impact all aspects of your life, physical, mental, and financial.
Compensation You Can Pursue for an Intersection Accident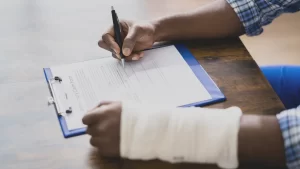 Florida follows a no-fault car insurance model. This model means if you are involved in an intersection accident, you will generally turn to your insurance company for compensation first. Florida law requires all motorists to carry personal injury protection or PIP coverage. As a motorist, you must have a minimum of $10,000 in PIP coverage. Most PIP plans will cover 80 percent of your reasonable and necessary medical treatment costs up to the limits of your plan.
While PIP coverage is mandatory, it likely doesn't cover all your losses if you suffer a catastrophic injury. Medical costs associated with intersection accidents can quickly exceed your policy limits. You may find yourself struggling to make up the difference. In some instances, Florida will allow intersection accident victims to file a third-party liability claim with the at-fault driver's insurer. However, to do this, you must meet Florida's serious injury threshold.
To be eligible to file a third-party claim, the intersection accident must cause at least one of the following:
Permanent or significant disfigurement or scarring
A permanent injury
The permanent or significant loss of a vital bodily function
Death
You may also have the option of filing a personal injury lawsuit. An experienced intersection accident lawyer can review your situation and help determine which legal avenue may be appropriate for your circumstances. A skilled attorney can also calculate your losses and give you an idea of what your claim may be worth. Generally, you can seek compensation for financial losses related to:
Medical expenses
Loss of earning capacity
Property damage
Emotional distress
Pain and suffering
To maximize your compensation after an intersection collision, talk to a Florida intersection accident attorney as soon as possible.
Contact an Experienced Intersection Accident Lawyer Now
Since 1978, Schuler, Weisser, Zoeller, Overbeck & Baxter P.A. has been committed to helping accident victims seek the compensation they deserve. We will work with you to find a legal avenue that offers you the best opportunity for a favorable outcome.
If you're ready to learn more about how we can help you seek the money you need to recover from your injuries, call our office at 561.689.8180. The initial consultation is free and confidential.
Related Reading: