If you sustained injuries in a multi-car accident due to someone else's negligence, contact Schuler, Weisser, Zoeller, Overbeck & Baxter P.A. immediately. The at-fault driver should be liable for their misconduct. We could represent you in your case and seek compensation on your behalf.
At Schuler, Weisser, Zoeller, Overbeck & Baxter P.A., we know the stress you feel after a car accident that wasn't your fault. You need medical treatment to heal your injury and don't know how to handle the legal aspects of a case to pursue the compensation you need. It can be overwhelming to handle alone. Fortunately, we can take over and complete every step on your behalf.
Our Florida car accident attorneys have over 40 years of experience representing accident victims. We know how to investigate and gather evidence to prove fault and recover compensation for our clients. You won't have to pursue legal action alone. We will remain by your side until the end of your case.
Call Schuler, Weisser, Zoeller, Overbeck & Baxter P.A. at 561.689.8180 today for your free consultation and learn more about how we can help.
Common Causes of Multi-Car Collisions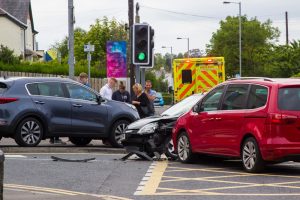 Determining who was at fault in a multi-vehicle crash can be challenging. This type of accident involves several drivers whose actions could be responsible for what happened. Sometimes, another party entirely could be liable, such as a government entity that didn't maintain the road properly.
A chain reaction commonly leads to multi-car accidents. One driver's negligence causes them to crash into someone else's car, resulting in that person colliding with another person's vehicle. Sometimes, the triggering event is at a red light when a motorist can't stop in time to avoid a crash. Anyone following them might need to slam on their brakes but collide with the back of the car ahead instead.
The most common causes of multi-vehicle collisions include:
Rubbernecking – Drivers often slow down to look at an accident on the side of the road or at someone pulled over by a cop. This is a form of distraction that can prevent motorists from noticing what's happening up ahead. If traffic comes to a standstill, it can result in a chain reaction that causes multiple people to crash.
Distracted driving –Distractions take a driver's focus off the task of driving. Texting is a common distraction. It's nearly impossible to see and respond to dangerous conditions when someone's eyes are on their phone.
Fatigued driving – Many people drive each day despite feeling tired. It's a common occurrence that most don't think twice about because it's part of their routine. Busy schedules and a lack of sleep can cause fatigue and interfere with driving abilities. It is as dangerous as drunk driving and places everyone around the fatigued driver in danger.
Speeding – Driving above the speed limit is reckless and endangers the lives of motorists, pedestrians, and other people on the road. When a driver speeds, it's more difficult to slow down or stop when necessary. A rear-end collision could cause a chain reaction for any motorist traveling behind.
Driving under the influence – Drugs and alcohol impair normal faculties. A slower reaction time, poor decision-making, and reduced motor skills are common side effects of driving under the influence.
Failure to yield – Drivers must yield under certain circumstances. For example, if a motorist has a red light, they must yield to cross-traffic before making a right-hand turn. Running a red light or stop sign can place their vehicle in the path of approaching drivers.
Adverse weather – Poor weather conditions, such as strong winds and heavy rain, can create hazards on the road. Drivers must slow down and proceed cautiously to avoid an accident. A pileup can happen if a driver skids on the slippery road and loses control of their car.
If you suffered an injury in a multi-car collision that wasn't your fault, contact Schuler, Weisser, Zoeller, Overbeck & Baxter P.A.. We can review your case and determine whether you are entitled to compensation from the negligent party.
Common Injuries in Multi-Vehicle Accidents
Multi-car collisions often cause severe injuries and fatalities. According to the  Insurance Institute for Highway Safety (IIHS), 45 percent of motor vehicle deaths in 2020 were from multiple-vehicle accidents.
Cars can crash into each other with such extreme force that the occupants get trapped inside. A debilitating crush injury or broken bones can result from the impact.
The most common types of injuries in multi-vehicle crashes include:
Crush injuries
Traumatic brain injury
Internal bleeding
Whiplash
Spinal cord injury
Loss of limb
Penetrating injuries
Broken bones
Psychological trauma
Paralysis
Disability
You could face ongoing physical therapy and other types of treatment to recover from your injury. Emotional and mental distress are also common. The trauma people suffer in a multi-car collision can cause a fear of driving or post-traumatic stress disorder (PTSD). Some accident victims develop depression from a disfiguring or disabling injury.
Compensation in a Multi-Car Accident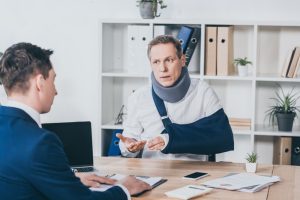 Florida follows a no-fault car insurance rule. That means anyone hurt in an accident must file a claim with their own auto insurer before pursuing compensation from the at-fault driver's insurance carrier.
Personal injury protection (PIP) covers 80 percent of all reasonable and necessary medical costs and 60 percent of lost wages up to the policy limit. State law requires a minimum PIP amount of $10,000.
You could file a claim with the at-fault driver's liability insurance company after you exhaust your policy limit and if your injury meets the serious injury threshold requirement. That means your injury consists in whole or part of:
Permanent and significant disfigurement or scarring
A permanent injury within a reasonable degree of medical probability, other than disfigurement or scarring
Significant and permanent loss of an important bodily function
Death
The compensation you receive in a liability claim could provide money for losses you sustained in the accident, such as:
Medical bills
Lost wages
Pain and suffering
Loss of enjoyment of life
Out-of-pocket expenses
Emotional distress
Property damage
You could also recover punitive damages in a lawsuit. The court might make an award of this type to you if you can show clear and convincing evidence of the defendant's gross negligence or intentional misconduct.
Statute of Limitations for a Multi-Car Collision
Florida has a statute of limitations that allows a four-year timeframe for filing a lawsuit. You have four years from the date of the multi-vehicle accident to initiate your lawsuit against the at-fault party for compensation.
If your family member died in a multi-car crash due to someone's negligence, the personal representative of the estate could pursue a wrongful death case. The statute of limitations for wrongful death allows a two-year timeframe to file suit.
Contact Schuler, Weisser, Zoeller, Overbeck & Baxter P.A. for Your Free Consultation
Schuler, Weisser, Zoeller, Overbeck & Baxter P.A. has represented accident victims in Florida since 1978. We will be your advocates and fight by your side for the justice you deserve. Don't leave the fate of your case in the hands of an inexperienced attorney. Let our team help you hold the at-fault party liable for your injury.
If someone else's wrongdoing caused your injuries in a multi-vehicle accident, call Schuler, Weisser, Zoeller, Overbeck & Baxter P.A. for your free consultation with one of our Florida multi-car collision attorneys today.