Without warning, you may be involved in a single-vehicle accident that can lead to severe injuries, property damage, and even death. If you were injured in a single-vehicle crash that wasn't your fault, you could be entitled to compensation. The personal injury attorneys at Schuler, Weisser, Zoeller, Overbeck & Baxter P.A. are ready to help you understand your options and determine the best path for your case.
Single-vehicle accidents are not uncommon. According to the Insurance Institute for Highway Safety, 55 percent of crashes in 2020 involved a single-vehicle accident. In Florida, there were 1,714 single-vehicle crashes in 2020, which was 51 percent of all crashes in the state.
If you were injured as a passenger or driver in a single-vehicle accident, you need an experienced Florida car accident attorney on your side. Call the Florida car accident attorneys of Schuler, Weisser, Zoeller, Overbeck & Baxter P.A. today at 561.689.8180 for your free consultation and case evaluation. You will sit down with an experienced legal professional who will listen to the details of your case and answer your questions.
Reasons for Single-Vehicle Accidents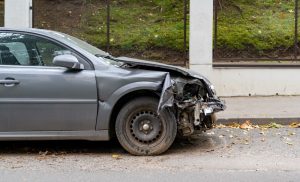 Car accidents typically happen because the driver was negligent or another party's negligence or risky behavior caused the accident. Most people assume that when there's a single-vehicle accident, the only person at fault is the driver. However, that isn't always the case.
There are multiple reasons for a single-vehicle crash in which the driver might not hold liability. For example, a drunk driver may veer into your lane, causing you to swerve and hit an immobile object, such as a median strip or lamppost.
If the car in front of you suddenly brakes, taking evasive action may cause you to impact another object. A manufacturer's defect or improper maintenance may cause mechanical failure which is responsible for an accident. This could happen if the car's brakes were improperly installed or the suspension or steering was poorly repaired. Hitting a large animal can also cause significant property damage and serious injury.
Additionally, poor weather conditions and road hazards could cause a single-vehicle crash. For example, large potholes could cause a tire blowout that makes you lose control and hit a stationary object. Black ice, wet pavement, sun glare, and high winds could all contribute to a single-vehicle crash.
Types of Injuries from a Single-Vehicle Crash
For the most part, single car accidents impact the car at the front of the vehicle. While it may resemble a head-on collision, the force of the impact only involves the speed of one car. This means it is less deadly than a head-on collision with two vehicles.
A single-vehicle accident can also impact the car on the side of the vehicle but rarely at the rear of the vehicle. The resulting injuries can be costly and cause physical, financial, and emotional burdens with a lifetime of challenges. Some of the types of injuries that can result from a single-vehicle crash include:
Traumatic brain injury
Facial injuries
Spinal cord injury
Abrasions and lacerations
Broken bones
Traumatic amputation
Internal bleeding
Organ damage
Wrongful death
Types of Possible Insurance Coverage for Single-Vehicle Crashes
Recovering compensation after a single-vehicle accident is not as straightforward as a multiple-vehicle collision. For example, if you were run off the road by another driver, the other driver could still be liable even though yours was the only vehicle that was damaged.
If a driver must swerve to avoid a cyclist or a pedestrian, the cyclist or pedestrian could be negligent. If your brakes fail or other issues occur with your vehicle that caused the crash, the manufacturer or mechanic could be liable for your losses.
Additionally, if you are a passenger in a single-vehicle accident, under Florida law, you have some of the same legal rights as the driver. Passengers could have grounds to pursue a claim for compensation from the at-fault party. You might also file a claim under your personal injury protection (PIP) coverage.
In Florida, all drivers must carry PIP and property damage liability (PDL) coverage on their auto insurance policy. This can help cover your accident-related injury or property loss.
Additionally, you might have uninsured motorist protection coverage on your insurance policy. This helps compensate you, your family, or a passenger in your vehicle if you are injured by an uninsured or underinsured driver.
These policies can be unstacked or stacked. In the case where the policy is unstacked, you may negotiate up to the limit of that policy. If you have two cars insured and purchased a stacked uninsured motorist policy, you can combine the limits from both cars for a single accident.
Additionally, a stacked uninsured motorist policy on your vehicle may cover you when you're riding in any other vehicle that is not yours.
How a Single-Vehicle Crash Attorney Can Help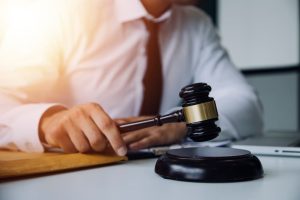 While you may be entitled to compensation, insurance companies do not make obtaining compensation from them easy. Even when you are making a claim against your own uninsured motorist policy, it can be difficult to receive the benefits you are owed.
The legal team at Schuler, Weisser, Zoeller, Overbeck & Baxter P.A. has the experience and skill you need to fight for your right to fair compensation. Our team understands that no amount of money can make up for your injuries.
Yet, financial help can pay your medical bills and restore lost wages if you're unable to return to work. Relieving some of your financial burdens can help make the path to recovery a little bit easier.
Our board-certified lawyers are aggressive negotiators and skilled trial attorneys whose goal is to fight for your rights. Compensation may include medical expenses, property damage, lost wages, emotional distress, and pain and suffering.
Call an Experienced Florida Car Accident Attorney for Help Today
If you were injured in a single-vehicle crash, you have options to receive compensation for your accident-related injuries. The legal team at Schuler, Weisser, Zoeller, Overbeck & Baxter P.A. is dedicated to helping our clients every step of the way.
The claims process can be complicated, but you do not have to go through this alone. Call our office today at 561.689.8180 to set up your free and confidential consultation and case evaluation. Find out how we can help protect your rights and help get you the money you need.