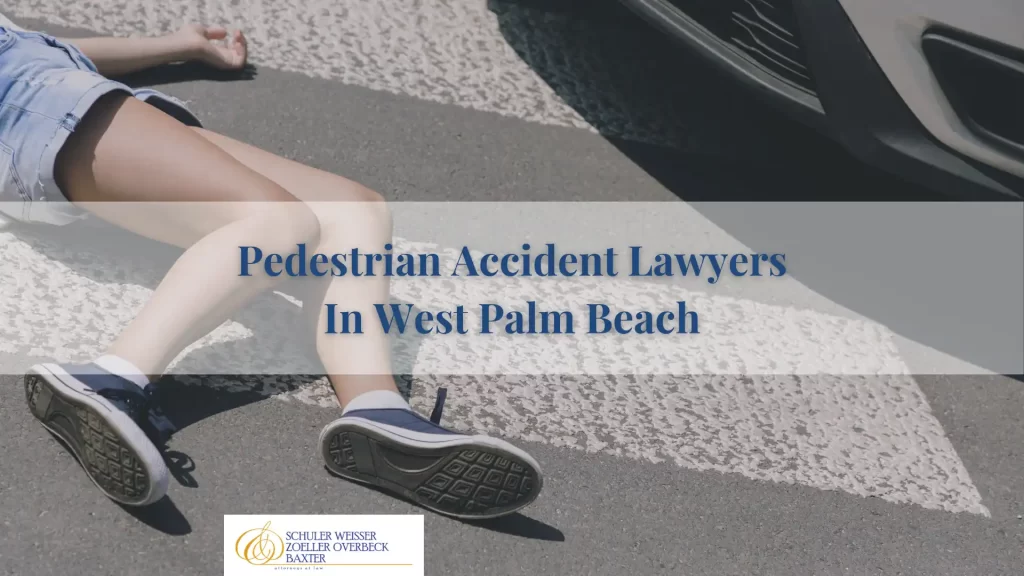 Did you or your loved one get hurt in a pedestrian accident? If so, you should know you can demand compensation from the driver at fault for your injuries and suffering. But to recover fair compensation, you need the help of an experienced pedestrian accident lawyer. Contact the injury lawyers of Schuler, Weisser, Zoeller, Overbeck & Baxter P.A. today at 561.689.8180.
The National Highway Traffic Safety Administration (NHTSA) defines a pedestrian as any person on foot, walking, running, jogging, hiking, in a wheelchair, sitting, or lying down. The NHTSA reports 5,000 pedestrians die each year in motor vehicle accidents. And thousands more get hurt in non-traffic accidents due to other factors like sidewalk or parking lot defects.
You could recover money for your losses if you get hurt in a pedestrian accident due to someone else's negligence.
However, the legal complications surrounding filing and pursuing such a case are vast. If you don't know the ins and outs of the process, you might be unable to secure the compensation you desperately need. Successfully navigating the legal system requires skill, experience, and knowledge. And that's where a pedestrian accident attorney comes in.
At Schuler, Weisser, Zoeller, Overbeck & Baxter P.A., our West Palm Beach pedestrian accident lawyers have over 35 years of practice guiding clients through this process. We represent our clients in a way that cuts through the inevitable confusion. We know what it takes to prove a driver was at fault for your injuries. And we know how to aggressively pursue your case so that we can maximize the amount of your settlement.
If you got hurt in a pedestrian accident in West Palm Beach, Schuler, Weisser, Zoeller, Overbeck & Baxter P.A. can help you recover the financial compensation you deserve. We prioritize setting your situation right, and we won't receive payment until we've successfully won your case. Contact us at 561.689.8180 to learn how we can help you.
How a Pedestrian Accident Lawyer Can Help
Your case has many aspects to assess and present to the court when filing a pedestrian accident lawsuit. Without a lawyer's help, it can be challenging to present a robust case while also maintaining your rights throughout the process. When assessing your situation, a lawyer can provide helpful guidance on a variety of actions, including:
Establishing reliable evidence of a defendant's negligence
Determining which parties may be held responsible for the injury
Navigating premises liability claims and establishing proof of dangerous conditions
Proving your exercise of "reasonable care" as a pedestrian at the time of the incident
The items listed above are only a broad outline of some of the components of the legal process. An attorney will have all the experience necessary to fight for your rights.
Why You Should Bring Your Case to Schuler, Weisser, Zoeller, Overbeck & Baxter P.A.
Successfully pursuing a pedestrian accident case takes more than a cursory understanding of the law. Few lawyers can provide the experience, successful case history, and dedication you will get with Schuler, Weisser, Zoeller, Overbeck & Baxter P.A..
Our firm has over three decades of experience taking on claims like yours and getting unbelievable results for our clients. We have won millions of dollars for clients who desperately needed those settlements.
We understand the trust you put in us when you bring your case to us. Our team responds to that trust by working hard to overcome insurance company tactics and maximize your settlement.
Our dedication and legal skills have won us numerous awards, including a place among Florida's Legal Elite. Bring your pedestrian case to us, and you can rest assured knowing you will receive the best legal assistance available in West Palm Beach.
Common Causes of Pedestrian Accidents in Florida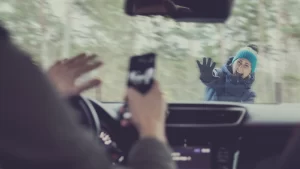 In 2017, there were almost 9,500 pedestrian accidents in Florida. Six hundred fifty-two died as a result of those accidents. Pedestrian accidents can happen in a variety of ways, including:
Drivers ignoring traffic signs: You can cross at a stop sign or when the traffic signals tell you it is your turn. Unfortunately, some drivers ignore these signals and signs, thus causing an accident.
Drivers darting out at crossings: Drivers may shoot out into cross areas because they aren't paying attention, don't stop soon enough, or want to make a quick turn. A pedestrian crossing at that time can suffer serious injuries in the event of a resulting collision.
Drivers driving inappropriately in intersections: Many pedestrian accidents occur in intersections where drivers rush to beat lights or don't pay enough attention.
Drivers turning improperly: Making an illegal turn can seem like a good idea in an instant of frustration, but those turns can leave pedestrians unaware of the vehicles coming their way.
Drivers backing up without care: A driver may reverse out of a parking spot or driveway without looking.
Distracted drivers: One of the most common causes of all car accidents, including pedestrian accidents. Distracted driving occurs whenever a driver takes their attention off the road. Common distractions include being on the phone, changing the radio, eating and drinking, or just daydreaming. Distracted drivers can be liable for any accidents they cause.
Driving under the influence (DUI): When an individual gets into a vehicle and starts driving after drinking or using drugs, they increase the risk of causing devastating pedestrian accidents. If they test positive for drugs or alcohol, they can be liable for all damages.
Non-vehicular pedestrian accidents can also happen when property owners fail to maintain areas like sidewalks or parking lots. You will likely want to pursue a premises liability claim if you get hurt in a non-vehicular pedestrian accident.
If you are uncertain about pursuing compensation for a pedestrian accident, contact Schuler, Weisser, Zoeller, Overbeck & Baxter P.A. now to discuss your case. We're happy to advise and represent you should you pursue your case.
Contact a West Palm Beach Pedestrian Accident Lawyer
The setbacks that come with pedestrian accidents can be financially and physically devastating. At Schuler, Weisser, Zoeller, Overbeck & Baxter P.A., our team firmly believes anyone hurt in a pedestrian accident deserves justice and fair compensation. Our West Palm Beach pedestrian accident lawyers put over three decades of practice into every case we handle. To begin discussing the particulars of your case, call 561.689.8180 or fill out our online form.
Related Reading: