Are you a medical professional who provided care to a motorist or passenger injured in an automobile accident and are now left with their unpaid bills due to denied insurance claims? Unfortunately, this happens all too frequently in West Palm Beach and throughout Florida due to our state laws, causing the ones who help injured motorists the most – the health and medical professionals – to pay a costly price.
Ultimately, when you do not receive the compensation you deserve for the quality medical care you provide to automobile accident victims, you have to write off the debt, often taking monumental losses that can hurt your business. This can raise medical costs for all of us in Florida and West Palm Beach.
According to Florida state law, all motorists are required to carry a minimum of $10,000 "PIP" insurance coverage, allowing for them to receive medical treatment coverage after an auto accident, regardless of who was at fault for the accident. However, the law makes it unfortunately easy for insurance companies to deny claims, leaving hospitals, doctors, and other medical providers without the ability to recover compensation for the cost of treatment performed.
If you provided treatment to a car accident victim and you're having trouble receiving fair and complete reimbursement for medical costs, you need an attorney fighting for you who has experience handling PIP claims. At Schuler, Weisser, Zoeller, Overbeck & Baxter P.A., our West Palm Beach PIP lawyers have years of experience helping hospitals, medical clinics, and other parties fight for the full and fair reimbursement they need after providing medical care to a car accident victim, and we are ready to put this experience to work for you.
Why You Need to Hire Schuler, Weisser, Zoeller, Overbeck & Baxter P.A. for Your PIP Case
Under Florida's Personal Injury Protection, or PIP, mandatory insurance law, an injured motorist must file a claim for their injuries with their own insurance company first, even if another motorist is at fault for the accident. The injured motorist files a claim against their own PIP coverage before any claim is filed or paid through any health insurance. With a cap of $10,000, the PIP distributes payments among claims for medical bills, lost wages, death benefits, and household services.
Florida legislators amended the state's PIP legislation in 2013. These changes, which went into effect in 2014, set restrictions on how and when injured motorists must seek treatment, the type of providers they can use, and what diagnoses are eligible for a PIP claim.
These changes mean that injured motorists in Florida must seek medical attention within 14 days after the motor vehicle accident. If the motorist involved in the accident does not think that they are injured, but then symptoms appear after the 14-day window, they forfeit their PIP claim and must either pay out of pocket, use their health insurance, or seek compensation from another driver, if applicable. This can cause payment delays, underpayments, or non-payment to medical professionals, like you, who are providing the treatment to the injured motorist – regardless of when they seek it.
The law also dictates who can treat an injured motorist within that 14-day window: a medical doctor, a doctor of osteopathy, an advanced practice registered nurse practitioner, a chiropractor, or a dentist. The motorist can also seek treatment from a hospital facility or an emergency treatment provider such as an ambulance crew.
Additionally, to be a valid PIP claim, the medical professional must expressly diagnosis the injured motorist with an Emergency Medical Condition, or EMC, and note the condition as such in the patient records. The legislation does not make it clear, however, how medical professionals are to evaluate an EMC. This ambiguity results in many insurance companies denying claims upon review by their adjusters. This pattern causes many medical professionals like you to go unpaid or underpaid or to encounter expensive delays in payment.
With so many details that can go wrong throughout the entire process – from the victim's decisions about when and where they seek help to how medical treatment records are filled out – it has never been more important for medical professionals who treat injured motorists to seek qualified legal help. The experienced PIP lawyers at Schuler, Weisser, Zoeller, Overbeck & Baxter P.A. will work for you and get you the compensation you deserve.
PIP Claims We Handle
At Schuler, Weisser, Zoeller, Overbeck & Baxter P.A., we know that the life of your practice depends on receiving fair reimbursement from insurance companies, and when you are denied this much-needed compensation, you may not know where to turn for help. Fortunately, our experienced West Palm Beach PIP lawyers are ready to provide you with the guidance and aggressive legal representation you need if an insurance company has:
Denied a claim
Delayed payment on a claim
Underpaid a claim
If you've experienced any of these or other forms of mistreatment from an insurance company, let our experienced team handle your legal concerns for you while you focus your attentions on your medical practice.
A qualified attorney with PIP claims denial experience may be able to take action that results in a positive outcome for you, the medical professional. We may be able to file a revised claim or gather additional evidence and records to support your claim for payment. Sometimes just knowing that you have legal representation can lead insurance companies to a settlement.
With over three decades of experience in West Palm Beach, we advocate for medical professionals who have been wronged by insurance companies who deny or underpay claims for the costs you incur treating motor vehicle accident victims. Don't let the obscurities of Florida's PIP law hurt you and your business. Contact Schuler, Weisser, Zoeller, Overbeck & Baxter P.A. at 561.689.8180 today.
Common Issues that Lead to PIP Claim Denials
Given the vagueness of the EMC definition, the insurance adjusters can exercise a tremendous amount of latitude in their interpretation of the extent of injuries when reviewing claims and medical professional's records – even though you are the medical expert. The legislation's only guidance states that an EMC is defined as "a medical condition manifesting itself by acute symptoms of sufficient severity, which may include severe pain …" and that if the injured motorist did not receive "immediate medical attention" it could seriously jeopardize their health, cause a bodily function to become seriously impaired, and cause an organ or other body part to become seriously dysfunctional.
While the patient must, under Florida law, seek treatment within 14 days following the motor vehicle accident, the medical professional does not have to establish that an EMC is present within that 14 days. This allows you to schedule lab tests, radiographs, and other diagnostic mechanisms, perform them, and get the results back to aid in the EMC diagnosis.
If the treating professional does not expressly declare in the patient's files that an EMC is present, the insurance adjuster and company will most assuredly deny the claim for full PIP coverage, and the claim may only be eligible for compensation up to $2,500. We know that tests and treatment will far exceed that amount, leaving you as the medical professional unpaid or grossly underpaid.
Give us a call at 561.689.8180 for a free consultation to review your insurance denial case. While we cannot guarantee a positive result, the legal team at Schuler, Weisser, Zoeller, Overbeck & Baxter P.A. has over 35 years of experience representing medical professionals in PIP insurance claim cases. This means that after we thoroughly review the specifics surrounding most automobile accident injuries and treatment claims, we can often give you an assessment of your chances at success if we pursue justice for you from the insurance company.
What Can Schuler, Weisser, Zoeller, Overbeck & Baxter P.A. Do for You?
The legal team at Schuler, Weisser, Zoeller, Overbeck & Baxter P.A. is familiar with most of the major insurance carriers in Florida and across the country, and we have significant experience in all legal aspects of motor vehicle injuries, PIP regulations, and related insurance claims. We understand how insurance adjusters work and how claims are processed. We recognize similarities among claim denials and can draw on our past experiences to proceed with the approach most likely to get you the results you need and deserve.
If you have been unpaid or underpaid due to a PIP claim denial, we will immediately get to work for you in these ways:
We will ensure that the insurance adjuster had all of the accident records and evidence that could demonstrate the severity of the accident and the likelihood of it causing an EMC.
We can find out if the automobile accident victim you treated attempted to file a claim under their own health insurance.
We can help submit a revised claim, if appropriate.
We can find out if another driver was at fault, possibly leading the automobile accident victim you treated to have a claim with that driver's insurance company.
We can threaten insurance companies with litigation, possibly leading to a favorable settlement, or take them to court.
You don't have to accept the insurance company's denial as final. Medical professionals in Florida and West Palm Beach act in good faith every day, providing necessary and life-saving treatment to unfortunate car accident victims, only to have insurance adjusters step in and deny legitimate claims, which denies you the payments you earned and that you deserve.
Don't jeopardize your business by writing off thousands of dollars in medical costs that you incurred when treating a motor vehicle accident victim. These denials typically force medical professionals to write off significant debt when instead, they deserve to be paid for their medical work. This causes medical costs to increase for everyone. You provided medical attention and treatment in good faith that you would be compensated under Florida's "no-fault" PIP laws. Do not let the insurance companies get away with not paying you or not giving you the payments you deserve in a timely manner.
You should not have to needlessly suffer for doing your job by saving a motor vehicle accident victim's life and ensuring they have the best qualify of life possible through your high-quality medical care.
If you are to take action, be aware that if the insurance company has already denied a claim for payment, you are operating under some deadlines that we must follow as set out in Florida legislation. For example, there is a deadline for filing a revised claim, as well as for exercising your right to seek overdue benefits from the insurance company.
Do not let another day go by without seeking the justice and financial compensation you deserve so that you can go about the business of helping the people of West Palm Beach. We at Schuler, Weisser, Zoeller, Overbeck & Baxter P.A. will be your staunchest advocates in working to see that insurance companies do the job they are mandated to do, which is to fairly pay the medical professionals who provided treatment.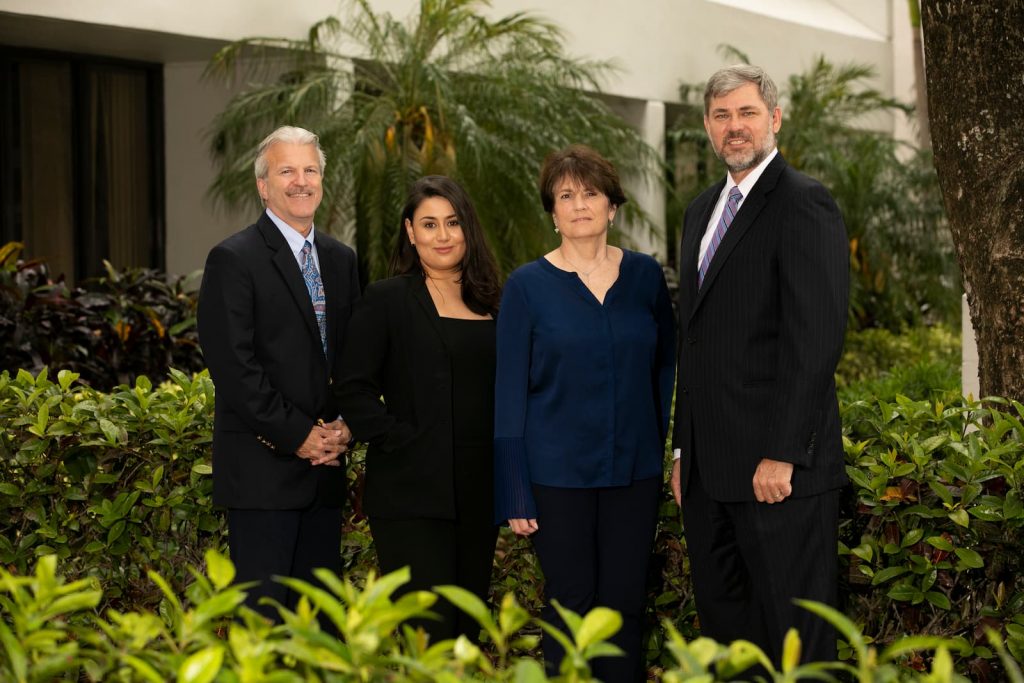 Contact a PIP Lawyer in West Palm Beach Today
When insurance providers deny valid claims, medical professionals, hospitals, and clinics can be left with overwhelming financial burdens. At Schuler, Weisser, Zoeller, Overbeck & Baxter P.A., we want to help you take action to pursue the full reimbursement you need. Contact our West Palm Beach PIP lawyers today by calling 561.689.8180 to learn more about what we can do to help.
FREE CASE EVALUATION
CALL 561.689.8180
SERVING THE ENTIRE STATE OF FLORIDA
Brevard County, Broward County, Coral Springs, Davie, Dearfield Beach, Fort Lauderdale, Hallandale Beach, Margate, Miramar, Plantation, Pompano Beach, Sunrise, Weston, Collier County, Naples, Duval County, Jacksonville, Lee County, Fort Myers, Leon County, Tallahassee, Manatee County, Bradenton, Marion County, Ocala, Martin County, Indiantown, Stuart, Miami-Dade County, Aventura, Parkland, Greenacres, Royal Palm Beach, Tamarac, Wellington, Jupiter, and Miami.
AWARD-WINNING REPRESENTATION