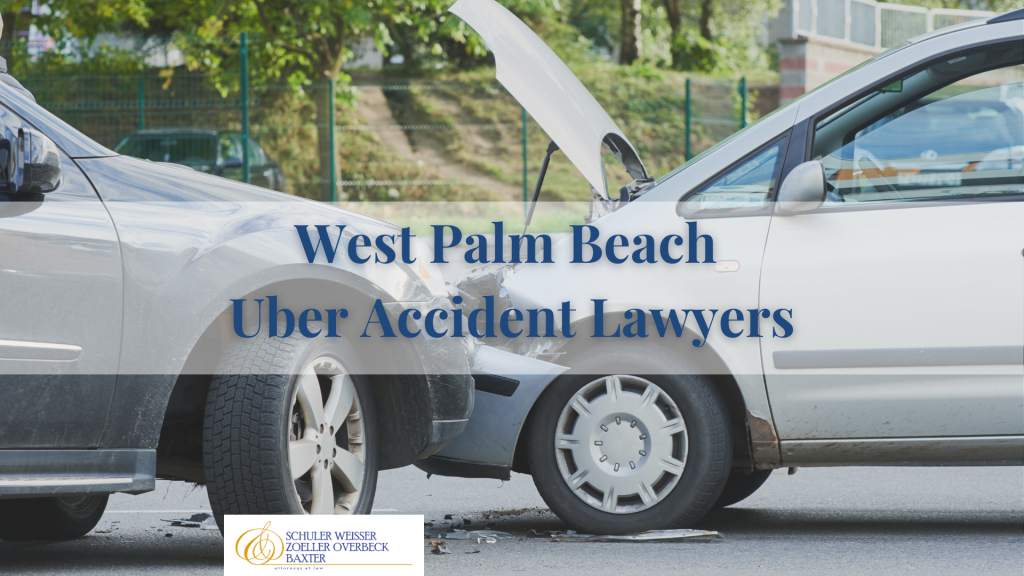 If you got hurt in an Uber accident due to someone else's negligence, contact Schuler, Weisser, Zoeller, Overbeck & Baxter P.A. immediately for legal assistance. You might be entitled to compensation for medical treatment, lost wages, and other expenses. Uber is a convenient rideshare service. However, accidents involving Ubers can injure passengers, pedestrians, or occupants of other vehicles. Your right is to pursue action against the Uber driver if they caused the collision. At Schuler, Weisser, Zoeller, Overbeck & Baxter P.A., we know the severe toll a car crash can take. It can upend your life and prevent you from performing routine tasks. We can help you hold the Uber driver liable for their misconduct. Call us at 561.689.8180 now for your free consultation with one of our dedicated Uber accident lawyers in West Palm Beach.
Uber Accidents
Uber accidents don't only involve the Uber driver and their passengers. Other people can get hurt in a collision with an Uber vehicle. The three ways you can get hurt in an Uber accident are:
As a passenger – An Uber driver's negligence can lead to a crash, injuring their passengers. The driver might be liable for speeding, running a stop sign, or texting while driving.
As an occupant of another vehicle – You might be entitled to compensation if you were in another car in a collision involving an Uber driver. The Uber driver must be at fault for the crash to be liable for your injury.
As a pedestrian, bicyclist, or motorcyclist – An Uber driver can collide with someone on their motorcycle, bicycle, or walking across the street.
Common Causes of Uber Accidents
An Uber driver can cause a car crash for multiple reasons, such as:
Fatigued driving – According to the National Sleep Foundation, drowsy driving contributes to more than 6,400 deaths annually. Fatigue affects a person's ability to focus on the road ahead and make good decisions.
Ignoring traffic laws – Traffic laws ensure everyone's safety. However, some people don't follow them. When a motorist violates a traffic law, they endanger others' lives.
Driving under the influence – Alcohol and drugs affect a person's normal faculties. Impaired drivers often struggle to brake for road hazards, follow traffic signs, or maintain safe speeds.
Distracted driving – A distracted driver doesn't notice their surroundings. Their eyes are on their cell phone, GPS, or another distraction, or their hands might be on a drink or food. Any distraction prevents drivers from having total control of their cars.
Tailgating – Tailgating occurs when someone follows another person's vehicle too closely. Braking to avoid a rear-end collision might not be possible when there isn't enough space between the two cars.
Speeding – High-speed accidents can have deadly consequences. According to the National Highway Traffic Safety Administration, 11,258 people died in speeding crashes in 2020.
Unsafe lane changes – Drivers must check their blind spots, use turn signals, and carefully merge into another lane. Changing lanes without taking the necessary precautions increases the risk of an accident.
Failing to yield – Everyone on the road must yield to others in specific situations. Motorists must yield to pedestrians in crosswalks, and drivers must yield to other drivers at intersections.
Do not hesitate to contact Schuler, Weisser, Zoeller, Overbeck & Baxter P.A. if an Uber driver caused a crash for any reason. We can investigate whether we can hold them liable for your injuries.
Compensation for Uber Accidents
Uber has liability insurance for its drivers under certain circumstances. You can file a claim with the insurance carrier if the Uber driver is at fault for the crash. However, coverage is only available in these two scenarios:
Picking up riders and during trips – $1,000,000 in third-party liability coverage
Waiting for a ride request or available – Third-party liability insurance for bodily injury and property damage
An Uber driver's auto insurance applies if they are offline or have their Uber app turned off when they cause an accident. That means you can't file a claim with Uber's insurance company. Instead, you must seek a settlement from the driver's insurer.
Florida requires every motorist to buy personal injury protection (PIP) insurance. You must file a claim with your auto insurance carrier before pursuing a claim with the Uber driver's insurance company.
PIP covers 80% of all necessary and reasonable medical costs up to a $10,000 limit. It also pays for 60% of lost wages due to the injury.
If you exhaust your PIP limits and want to file a liability claim, your injury must meet the serious injury threshold. That means your injury consists in part or whole of the following:
An injury that is permanent to a reasonable degree of medical probability, other than scarring or disfigurement;
Permanent and significant scarring or disfigurement;
Permanent and significant loss of a vital bodily function
You might recover compensation in a liability insurance claim for your:
Hospitalization, prescriptions, and other medical expenses
Lost earning capacity
Emotional distress
Out-of-pocket expenses
Loss of enjoyment of life
Property damage
Punitive damages are also recoverable in a lawsuit. They punish the defendant for their actions and aim to deter similar future actions. You must provide clear evidence of the Uber driver's intentional misconduct or gross negligence to recover them. Consult with an experienced Uber car accident lawyer to navigate the complexities of pursuing punitive damages effectively.
Statute of Limitations for Uber Accidents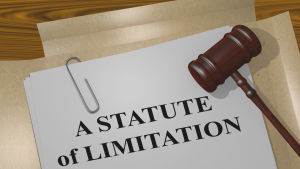 In Florida, the statute of limitations allows a four-year timeframe for filing a lawsuit against another person. That means you must file your lawsuit against the Uber driver within four years of the crash date.
Injured in an Uber Accident? Contact Schuler, Weisser, Zoeller, Overbeck & Baxter P.A. Today
Schuler, Weisser, Zoeller, Overbeck & Baxter P.A. has represented accident victims since 1978. We believe in fighting for our clients' rights and seeking the justice they deserve. You can count on our team of dedicated Uber accident lawyers in West Palm Beach to pursue the maximum possible compensation on your behalf. We will not give up without exploring all available options for holding the negligent motorist liable.
If you got hurt in a car accident in West Palm Beach involving a negligent Uber driver, call us at 561.689.8180 for a free consultation. Let us help you recover from this traumatic experience and move forward with your life.
Related Reading: